It's more common than you think - folks well into their 70's and 80's still running for exercise. (I hope it's my story when I'm 80 years old!) Below are accounts from two resident who live in a community where NIFS provides fitness center management services. We were so impressed with these two residents, we asked to spotlight their stories:
Judy Carlson
She was born in New Jersey, but lived in Honolulu, Hawaii with her husband R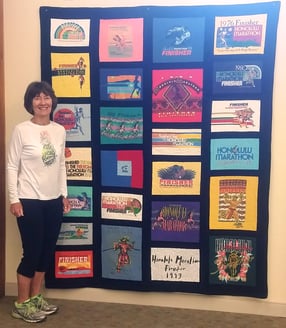 uss, for almost 50 years before becoming a Timber Ridge resident.
Throughout her running career (she started at age 35), she's competed in 42 marathons, all across Hawaii. Although she says she's run her last full marathon, she continues to run races and has a group of friends with whom she runs the Hawaii Pacific Health's Women's 10k every year. She has also picked up races local to Seattle and she plans to complete the Seattle Half Marathon this Thanksgiving weekend.
Judy loves running because it brings people together and creates a sense of community.
I used to meet with a running a group and it was nice because there was no age discrimination; you just show up and run, nobody cared how old you were.
She told us that despite all of her long distance running, she's never seriously trained; she's in it for the enjoyment. You can see Judy pictured next to a quilt she made from some of the t-shirts she received during marathons she's completed.
Dan Anderson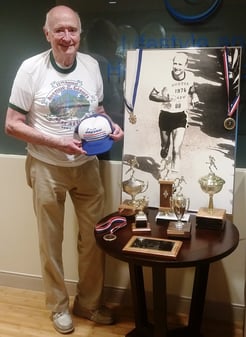 Shortly after Dan graduated from MIT, he married the love of his life, Portia, and they moved to Southern California where he began taking classes at USC and started work at the Hughes Research Laboratory. He's had quite a career - not only did he play a large role in the development of the modern day laser, he later went on to serve as the Chief Patent Counselor at Boeing. Now, at the age of 89, Dan resides with his wife Timber Ridge.
When Dan wasn't in school, developing lasers, or working through patent law, he was running. He finished his first marathon, the Palos Verdes Marathon, at the age of 24, and he went on to run marathons in Boston, Tri Cities, Culver City, Northern California's "Avenue of the Giants" (his favorite), Vancouver, Memphis, Austin, Los Angeles, Athens, among others.
In his earlier years, Dan enjoyed training others using his 6x6 training method that helped his trainees go from walking to running a 10k at the end of six months. He trained his colleagues from Boeing, including the President of Boeing at the time.
All told, he completed 116 marathons. He ran his last marathon at 80 years old, but he's not done running; he's led and participates in the running group at Timber Ridge.