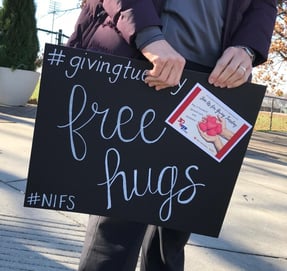 Today is #GivingTuesday, and for our NIFS family, we're celebrating NIFS 30th birthday by giving back in our communities. Several weeks ago, I challenged our team, which is spread throughout the country, to consider giving back in ways that were meaningful to them. I offered a few suggestions and then left it to them to come up with what what hit home personally. But I knew I couldn't leave it there; I knew I had to show them that I was in for this giving thing too.
So I thought about the ways I typically give, but none of those usual suspects really struck me. I guess that's because they're my norm and part of my routine commitment to my community.
That's when it hit me...FREE HUGS.
You don't know me, so let me say here for the record that I am not anti-hug. I am however, a little hesitant on hugging strangers. But before I could back out of my own idea to set up a free hug event, I told a colleague, and then I emailed the team to share that I would be giving free hugs for #GivingTuesday.
I just got back to my desk from that adventure. Despite trying to talk myself out of it twice this morning (I'm not kidding), I grabbed my "free hugs" sign (thank you, Kara Gootee-Robinson), and my coworker, Ashley Smith (and her camera!), and headed out to the IUPUI campus.
My stomach was in knots because I was so afraid that I would be rejected...that no one would want a hug. Most of us fear rejection, right? What if I was standing on that corner calling out for free hugs for #GivingTuesday and everyone just looked down at their phones, earbuds in, and tried to ignore the crazy lady on the corner?

Not only were my fears quickly erased as several good natured souls stepped up for their hug, when my time was up, I walked away feeling great about spreading a little love and goodwill.
While hugs are not how I typically give back in my community, it was a great reminder that it doesn't take a lot of time or money to put a smile on someone's face. We also don't have to wait around for the first Tuesday after Thanksgiving to see and respond to needs in the community. We're all busy...too busy, and if we wait for the right time to start contributing, it will NEVER happen. There is richness gained in giving to others, and all it takes is a willingness to put yourself out there.