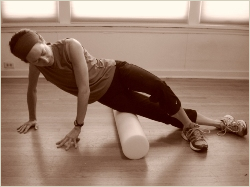 You may have seen foam rollers in your corporate fitness center and wondered what to do with them or how they benefit the body. Using a foam roller involves a technique called self-myofascial release. The idea is that when deep pressure is applied to areas that have been overworked or carry tightness, the soft tissue tension is released, allowing for better flexibility, improved performance, and decreased pain.
The good news is there aren't many wrong ways to use the roller. You can use this tool on the back, quads, hamstrings, hips, glutes, IT band, and more. Typically, you will lie on the roller with the affected area pressing into the foam. Then, use your body weight to slowly roll back and forth on the roller.
You can compare the feeling of the foam roller to a deep-tissue massage. Some people will find the pressure to be therapeutic as it breaks down tension that they have been experiencing. For other people, the pressure can be too much, especially on tender areas, so it may be borderline painful. Start by rolling gently, perhaps supporting some of your body weight, so that it is not all bearing down on the roller.
Runners especially tend to benefit from foam roller therapy. When used on a regular basis, it can prevent tightness in the back, hips, and legs. If your corporate fitness center does not have a foam roller, consider investing in one of your own. They are inexpensive, ranging in price from $20 to $40 at your local sporting goods store. This article shows a foam roller routine that can be done once per day, leading to benefits in only two weeks.