This blog was written by Lisa Larkin. Meet our blogging fitness specialists at the NIFS website.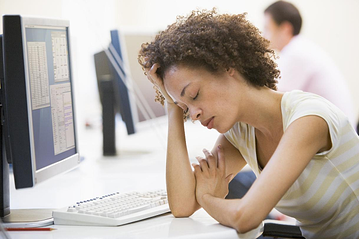 Sleep and exercise can be a vicious cycle. The more tired you are, the less motivation you have to exercise. Working in a corporate fitness program, I see a lot of tired and stressed people. The onsite fitness facility seems to help improve their moods.
When I'm tired, the last thing I feel like doing is exercising. But then I feel worse because I didn't exercise. Even getting up and going for a 15-minute walk can help to improve your mood, stress level, confidence, and sleep patterns. Most people will tell you they feel better after exercise.
Physical activity can help to clear your mind and concentrate better at work, which will help you sleep better at night, too.
Even though sleep is important for health and daily functioning, the average person doesn't get the recommended seven to nine hours of sleep a night. So, why not get up and start exercising now to help you sleep longer and better tonight?