This blog was written by Penny Pohlmann. Meet our blogging fitness specialists at the NIFS website.
Do you hate the flu as much as I do? The aching muscles, chills, throbbing head, sore throat—I wouldn't wish it on my worst enemy. The CDC estimates that 5 to 20% of the U.S. population gets the flu each year, which also translates to nearly 75 million missed work days.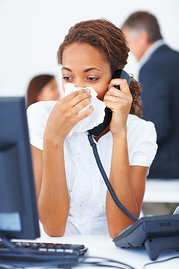 How can you minimize the spread of the flu virus at your office? The best preventative measure is probably offering a free flu vaccine clinic for your employees. However, there are other health behaviors you can introduce to your employees.
Encouraging your employees to practice more frequent hand washing could be the ounce of prevention that they need. In fact, a German research team found that a group of frequent hand washers and users of hand disinfectant reported they felt better and more productive while at work than a control group that did not use the product.
Encourage your employees to practice healthy behaviors during flu season and all year by keeping their work spaces clean, frequently washing their hands or using hand disinfectant, and maintaining a regular exercise routine to boost immunity.
Need more ideas to help keep your employees healthy? Seek guidance from a corporate fitness management company and the professional staff who supervise their fitness centers.