This blog was written by Penny Pohlmann, MS. Meet our blogging fitness specialists at the NIFS website.
Is your desk buried under a pile of paper, file folders, cords, and sticky notes? I know my desk can get a little out of control when class plans, forms, and notes start to pile up. In order to regain that sense of control and focus when my desk gets out of control, I take a few minutes to straighten things up a bit.
Did you know the state of your desk can actually affect your health and productivity at work? Researchers conducted a study of 2,000 office workers and identified the condition of IDS. Yes, IDS stands for Irritable Desk Syndrome, which is caused by a cluttered, messy, and poorly arranged desk. It can cause distractions and stress as well as back and neck pain.
Desk Organization Tips
Invest in employee health, sanity, and productivity at work and encourage them to spend some time cleaning and organizing their workspace. Consider these desk organization tips: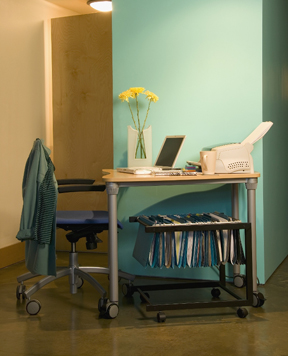 Minimize visual distractions. Choose a
few favorite pictures, notes, or figurines and display them neatly so
that you can admire them from time to time.
Increase usable desk space. Throw away or
file unneeded documents taking up space in your work area. (Don't forget the floor and shelves,
too.)
Tidy up. A neat space creates an atmosphere without distractions and stress, meaning you stay focused and on task.
Sanitize. Wipe down your desk, phone, keyboard, and any other frequently touched surfaces to prevent the breeding and spreading of bacteria that could make you sick.
A tidy workspace tells your coworkers, managers, and clients you are organized and have your business in order.
Ergonomic Adjustment
Do you provide a corporate fitness center at your office? Ask the managers of the fitness center to provide a "Lunch and Learn" or demonstration about proper desk ergonomics to ensure that chair height and computer screen, keyboard, and mouse placement are optimal for minimizing neck, back, and joint pain.