This blog was written by Veronica Hofmann. Meet our blogging fitness specialists at the NIFS website.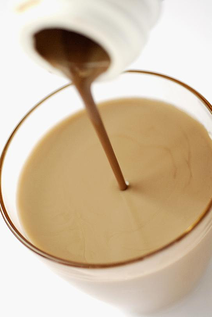 There are so many sports drinks and supplements on the market that it is almost impossible to choose which one is best for an after-workout refuel. There are dozens of flavors and brands of protein shakes, waters, and carbohydrate drinks.
Recently something very simple has been advertised as being a better choice than all of these. Almost everyone has had it before, and many probably still enjoy it frequently without even realizing the benefits it could have when used after exercise. Are you ready? Low-fat chocolate milk!
Yes, believe it or not, science has shown that low-fat chocolate milk contains the perfect balance of carbs and protein that can quickly restore your muscles to their peak potential after you exercise. Low-fat chocolate milk will help you build lean muscle as well as rehydrate after exercise and has been proven to work better than other commercial sports drinks. It also naturally contains some of the electrolytes that are added to recovery drinks.
I was happy to find this information because I try to include only natural foods and drinks in my diet. When looking at the ingredients in sports drinks and protein shakes, there are many unidentifiable ingredients.
I started to include low-fat chocolate milk into my diet for many health reasons. (And hey, let's not forget it's delicious!) I was then randomly contacted by the Refuel with Chocolate Milk tour and asked to work at a local triathlon at their booth near the finish line. They had an amazing setup and I learned all about why low-fat chocolate milk is now a preferred way to refuel after exercise! What perfect timing!
I have been spreading the word about the benefits of chocolate milk for after-workout refueling and it would be a great topic for a corporate wellness program lunch and learn. I am sure encouraging people to drink something that is super yummy and beneficial would be easy!