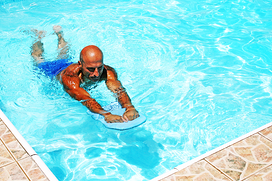 It's the Fourth of July and many of you are probably gearing up to enjoy the outdoors at family gatherings and pool parties. Start your day off right with a workout. During the summer months, exercise is seen as a daunting task by many, however it can be enjoyable if you follow these suggestions for exercising in warm weather.
It is important for individuals of all exercise levels to take it easy when exercising in the heat. Start off slow allowing the body to adapt to the heat. Length and intensity of your workouts should increase gradually in order to avoid heat related illnesses. Try completing your workouts in the morning or evening when the temperature is cooler. When possible, find an area with plenty of shade to help keep your body cool on a hot summer day.
Drinking adequate amounts of fluid while exercising will help keep your body temperature regulated. Steer clear of drinks containing alcohol and caffeine before, during, and after your workouts. When exercising outdoors for longer than one hour, rehydrate with sports drinks in order to replace electrolytes lost through sweat.
Proper attire is key to staying cool in warm weather. Loose fitting, light-weight clothing allows your body to breath and stay cooler, longer. Dark colors absorb heat, keep cool with light colored clothes. In addition to protecting your body temperature, protect your skin as well by applying a high SPF sports sunscreen a minimum of 30 minutes before sun exposure.
Hot, humid weather puts added stress on the body, be prepared with a back up plan. For example, take your workout to the pool. Depending on gender, height, and weight, swimming laps can burn more than 500 calories per hour. Plus, what is more refreshing than jumping in a pool on a hot and humid summer day?!