One of the most versatile and healthy foods out there also happens to be a favorite for most when decorating this time of year. Pumpkins are not only something that can be used to spruce up your front porch in the fall but is also an excellent addition that should be incorporated into your daily eating routine!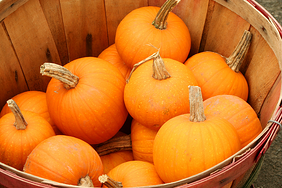 Pumpkin is loaded with Vitamin A, which helps with vision. The carotenoid, beta carotene, in pumpkins is converted to Vitamin A for even more eye protection! This antioxidant has also been found to have a role in cancer prevention. It is also loaded with fiber (3 grams for 1 cup), which we know is excellent for heart health. One final perk of pumpkin is the amount of potassium it contains. Electrolytes, especially potassium, are important after a hard workout, and 1 cup of pumpkin provides more potassium than a banana (564 milligrams vs. 422 milligrams).
Try these recipes to obtain all of the health benefits that pumpkin has to offer!
Pumpkin Pie Dip
Ingredients:
1, 15 oz can of pumpkin
1, 5 oz box of instant vanilla pudding, just the powder
1, 16 oz container of low fat cool whip
1/2 Tbsp Pumpkin Pie Spice
1/2 Tbsp Cinnamon
Directions:
Mix pumpkin, pudding mix, cool whip, and pumpkin pie spice together by hand in a very large bowl and chill for several hours before serving. Sprinkle with cinnamon, and serve with fresh apples slices, vanilla wafers or ginger snaps.
Pumpkin Spice Smoothie
Ingredients
1/2 cup pumpkin (canned or freshly cooked)
1/2 frozen banana
3/4 cup almond milk
1 tsp cinnamon
1/2 tsp pumpkin pie spice
pinch of ground ginger
Directions
Put all ingredients in the blender and blend until smooth. Pour into a glass and enjoy!
Pumpkin Chili
Ingredients
1lb ground beef
1 green pepper, diced
1 onion, diced
1 Tbsp chili powder
1 Tbsp cumin
1 tsp garlic powder
1 tsp onion powder
1 (15oz) can pumpkin puree (NOT pie filling)
1 (15oz) can pinto beans, not drained
1 (15oz) can black beans, not drained
1 (28oz) can diced tomatoes, not drained
salt and pepper, to taste
olive oil
Instructions
In a large soup pot, brown ground beef with pepper, onion, and a drizzle of olive oil. As the meat and veggies are cooking, sprinkle over chili powder, cumin, garlic powder, onion, powder, and a healthy pinch of salt and pepper. When the meat is cooked through, and the veggies are tender, add pumpkin puree, undrained beans, and the tomatoes with their juice to the pan. Cover and simmer until ready to eat.
Pumpkin isn't just for pie! These recipes can be included anytime during the day.
For more information on pumpkin or other super foods, please contact Angie Scheetz, RD at ascheetz@nifs.org or 317-274-3432 ext 239.