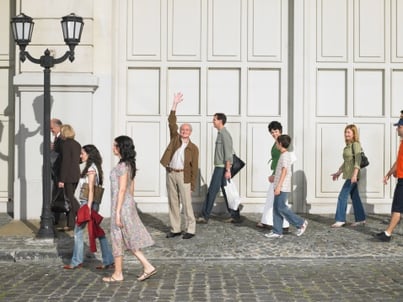 If you live in a city, then you have your share of challenges when it comes to keeping fit. Although so many things can be available at your fingertips, how do you successfully stay active? Here are 10 ways to be fit in multiple wellness dimensions for seniors living in an urban area:
Stop to smell the flowers by walking around a park or botanical garden. Research shows that green space and being outside can lower stress. I'm not saying you have to hug a tree in appreciation…unless you want to.
Enjoy a cultural experience at a museum while racking up your steps. Many cities house museums for art, science, history and much more! This is a great excuse to check out the latest exhibit while stepping your way towards health.
Walk a pet. Use a cute pooch as your excuse to get out and about on a regular basis. Start slowly and increase your pace and/or distance over time!
If you have access to a body of water, then try sailing, canoeing, or kayaking. This can be a fun option to mix into your routine by getting out on the water. Don't forget to take pictures from that different point of view to show all of your friends!
Take the stairs. Stairs are everywhere throughout the city. If this is a safe option for you, then challenge yourself with some stair routines. Walk them, every-other step them, do sidesteps…be creative! I usually do stairs while listening to Eye of the Tiger…and pretend I'm Rocky Balboa.
Explore your city's architecture and history. Whether it's on foot or on a bike, explore the ins and outs of your city while getting exercise. More and more cities are offering bike rental services so if you don't own a bike, then try renting one!
Participate in an organized race event. Many cities host races of various lengths, causes and themes for you to participate in throughout the year. Select a race with a meaningful cause to you and train accordingly. This can also provide a target end-goal for your exercise regimen.
Attend festivals or street markets. This will give you an opportunity to walk around and even pick up a few fresh treats while being social with a few hundred of your closest friends!
Beat traffic by walking instead of driving. Given the accessibility of many locations, try walking to and from appointments and events such as grocery stores, hair appointments, doctor's appointments, dentists, and the theaters when appropriate. This is a healthy option that is also good for the environment.
Try a Gentle Yoga or Tai Chi class! Both of these classes are beneficial to seniors since they are gentle on joints, promote range of motion and target on balance improvement. Some classes will even meet outside on nice days!
What ways have you found to be fit in your city? Keep in mind these safety recommendations to optimize your overall wellness. Don't live in a city? Watch for my next blog about Ways to Stay Fit in the Country!
Exercise is important as we age, check out our quick read for more information and share with your loved ones to keep them active, click below!