This blog was written by Bethany Garrity. Meet our blogging fitness specialists at the NIFS website.
A recently released Centers for Disease Control and Prevention (CDC) report noted that obesity rates in the U.S. were steady last year compared with 2008 rates. This is good news because once we stop the health decline, we can start to make improvements.
Even better news from this report is that more Americans report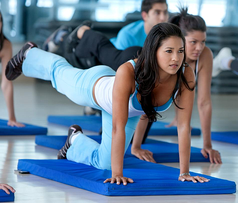 being physically active--up to 34.7 percent compared with 31.9 percent in 2008. This is also good news; moving more can't be bad. Regular exercise is a key to successful weight loss and weight management. If that doesn't motivate overweight employees to move more, note some of the many other scientifically proven benefits of engaging in regular exercise.
We're cautiously optimistic. Health professionals across the country are doing great work to help address the obesity epidemic. Workplaces are driving much of that meaningful work in their communities with onsite corporate fitness centers, corporate fitness programs, wellness-focused benefits, healthy food options in cafeterias, and health cultures and policies that support good choices.
More work needs to be done. What are you doing to build a healthy workforce and help overweight employees lose pounds?