Before I launch into my list, I want to note that this is not an all-inclusive list, nor is it ranked in order of importance. It's just four pieces of the 1,000-piece puzzle that so many health practitioners, employers, employees, and others are trying to solve.
1. People don't realize how much of a problem their weight is.
Perception is reality, and adults' perceptions about their weight are way out of whack. According to an August 2010 Harris Interactive/Health Day poll that included feedback from almost 2,500 adults ages 18 and older:
30 percent of overweight people think they're actually normal size.
70 percent of obese people feel they are merely overweight.
39 percent of morbidly obese people think they are overweight but not obese.
2. Many workplaces have a bad health culture.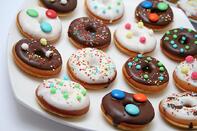 Healthy corporate environment and policies are often overshadowed by an unhealthy workplace culture that supports donuts at meetings and candy bars for fund-raisers.
3. Office wellness initiatives lack educated leadership.
Knowledge is power. Unfortunately, most corporate health promotion initiatives are overseen by individuals lacking the appropriate educational background to safely and effectively sustain those efforts.
4. Politics and uncertainty hamper corporate wellness programs.
Legal landmines tied to worksite health promotion scare away serious wellness efforts that might have a healthy impact on the workforce. Add to that the great unknown that is Health Reform and employers start to feel like their health promotion hands are tied.