This blog was written by Dan Walker. Meet our blogging fitness specialists at the
NIFS website
.
The numerous benefits of strength training for the musculoskeletal system are well documented, but could it provide additional benefits? Besides leading to increased strength and muscle endurance, better balance, and improved health of the muscles and connective tissue, what effect could it have on cognitive function, if any? Researchers in Canada recently set out to determine just that.
Strength Training Sharpens the Mind
While we all could use a little more brain power, it is crucial for older adults to maintain a high level of cognitive functioning to keep their ind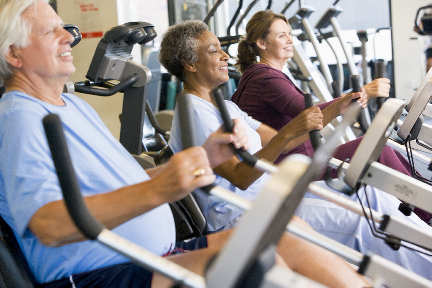 ependence. Regular strength training can help them do this from a physical standpoint, but maintaining their cognitive abilities is equally important. Interestingly enough, a loss in cognitive abilities is a risk factor for falls.
Fortunately, though, the "Brain Power Study" found that progressive resistance training improved executive cognitive functioning (which is needed to maintain independent living) in women ages 65 to 75. And even one year later, the benefits were still notable. This makes for just one more reason for grandma and grandpa to hit the weights!
Take Advantage of Senior Wellness Programs
Many retirement communities now have a fitness center available, complete with onsite fitness center management specializing in senior fitness classes, senior wellness programs, and senior fitness management. Balance classes, strength classes, and aqua aerobics classes are just a few of the many ways to get in regular physical activity during the golden years.
It might be a little intimidating at first, but encourage the loved ones in your life who are getting older to begin a regular fitness routine that works for them. It will not only help maintain their physical health, but evidence is emerging that it can do just as much for their cognitive health.
What are some of the other ways you or your loved ones have found to keep moving, even as time goes on?