This blog was written by Anna Hiple. Meet our blogging fitness specialists at the NIFS website.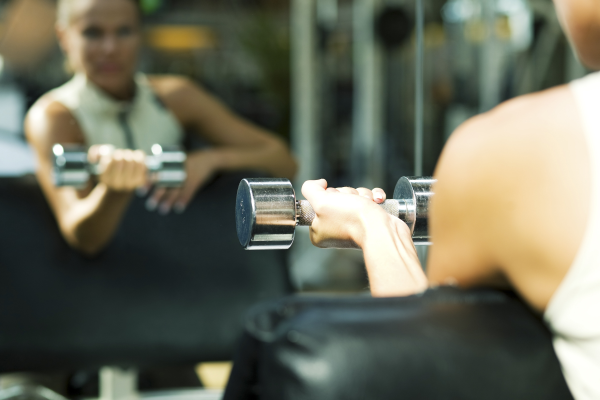 Here's some fuel to help you crank out one more repetition, finish an extra pushup, and hold that plank just a little bit longer. Along with all of its other wonderful benefits, strength training can help prevent type 2 diabetes. This should be of interest to a significant part of the population, as millions of Americans suffer from type 2 diabetes and pre-diabetes, with many more at risk due to obesity, existing health conditions, family history, and lifestyle choices.
Type 2 diabetes is characterized by a lack of insulin produced by the body or an inability of the body to properly use insulin. Weight training's contribution to a reduction in risk for type 2 diabetes is supported by findings from the National Health and Nutrition Examination Survey that the higher the proportion of an individual's weight is muscle mass, the more sensitive the body will be to insulin. Muscle mass is efficient at handling glucose and keeping blood sugar levels steady.
This information tells us how important it is to keep body fat levels within a healthy range and that simply looking at body weight can be deceiving (ideally, you'd rather be both slim and fit, but being overweight and somewhat fit can still protect you more effectively from risk than if you are overweight and unfit).
Don't know what your body fat is? Check with your local gym to see if they offer body fat testing (hint: NIFS and many of its worksite fitness sites do!). Some scales and other fitness tools will also measure body fat, but may have more of a margin of error.
In addition to your favorite forms of cardio, be sure to pump some iron, working all major muscle groups two to three times per week (as recommended by the American College of Sports Medicine). Obviously, prevention of type 2 diabetes is most desirable, but individuals with the condition can still benefit from a consistent strength training routine because it will help them make the most of the insulin that is produced. And, you'll reap all those other good things that strength training does toward helping you achieve a leaner, healthier, happier body!