This blog was written by Penny Pohlmann, MS. Meet our blogging fitness specialists at the NIFS website.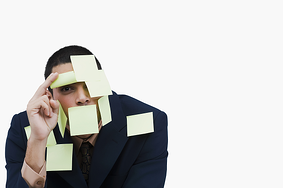 When cuts are being made in your organization, there may be even more pressure to earn your keep and ensure you're meeting work demands. Finding time to exercise during the day may not be an option when workloads are mounting.
When weight gain seems inevitable in the midst of the stress, keep in mind that it is preventable with a bit of planning. Decide exactly how you will still get in some exercise, even if it is not as much as you'd like.
Here are a few tips:
Take every opportunity. Instead of sending an e-mail to a colleague, take a quick walk to her desk and ask her your question in person. You can also take a break from sitting by standing up when you take calls on the phone. Use the stairs instead of the elevator whenever you have the chance. Even these small activities can help minimize stiffness.
Arrive early, stay late. Even if you can't squeeze in a 30-minute walk in your wellness center during the day, three 10-minute walks throughout the day can be just as beneficial. Arrive to work 10 minutes early so you can spend 10 minutes walking on the treadmill before you get to your desk. If you can spare 10 minutes during the day and 10 more after work, you will have squeezed in a 30-minute aerobic workout.
Get personal. Staff in your corporate wellness program can design an individualized, effective, and time-efficient workout for you. With knowledge of your goals and time constraints, a qualified fitness specialist should be able to walk you through an exercise program that is appropriate for your skill level and availability.
What do you do to fit in exercise when you're short on time?