This blog was written by Jenna Pearson. Meet our blogging fitness specialists at the NIFS website.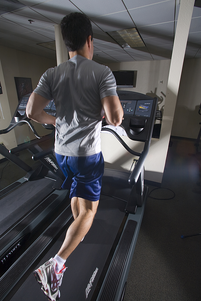 Your VO2max, or maximal oxygen uptake, is defined as the maximal capacity for oxygen consumption by the body during maximal exertion. It sounds very scientific, and it is!
The More You Exercise, the Easier It Gets
A lot happens inside our bodies when we exercise, and regular aerobic (cardiovascular) exercise is known to illicit adaptations that make prolonged, endurance-type activities easier. If you work out in the corporate fitness center regularly, chances are you've experienced these improvements! Adaptations to exercise are due in part to changes that occur in your muscles (i.e., getting stronger) as well as the changes that occur in the systems responsible for fueling you with energy to perform exercise and daily tasks (they become more efficient). Changes also occur largely because of improvements in the cardiovascular system, which not only results in increased circulation to and within the muscles, but is where VO2max comes into play.
What Does VO2max Mean to You?
Many exercise professionals view VO2max as a good indicator of how physically fit a person is, as the more aerobically fit you are, the higher your VO2max will be. A good exercise program is one that is sustainable (you can stick with it) and attainable (effective in helping you reach your goals). If you are following a well-rounded exercise program and are conscious of incorporating physical activity into your daily routine, it is likely you are working to improve not only your fitness, but also your VO2max.