This blog was written by Lisa Larkin. Meet our blogging fitness specialists at the NIFS website.
What are the benefits of incorporating kettlebells into your workouts?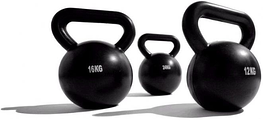 Kettlebells have a comfortable, easy-to-use handle, which I feel is a little safer if you are swinging them around your head, although others may think because the weight is on the bottom, one slip of your grip could lead to an injury.
Kettlebells allow you to get a greater range of motion, and force you to use more stabilizer muscles. The more muscles you use, the more calories you burn! Performing a lot kettlebell exercises will help to strengthen your core as well. Core muscles play a major role in stabilizing your body.
Kettlebells in the Corporate Fitness Center
Working at a corporate fitness center, we teach a lot of classes and work with a fit population overall. Our participants like to be challenged using the kettlebells. They are good way to mix up workouts instead of always using traditional dumbbells. These fun-looking weighted balls with a handle are also easy to store and don't take up a lot of room, which is good for group fitness classes.
Best Kettlebell Exercises
A squat kettlebell swing is one of my favorite exercises. This single exercise strengthens the lower body, core, and shoulders, and gets the heart rate up. What's not to love? I've listed a few of my other favorite kettlebell exercises. Try them today!