This blog was written by Jenna Pearson. Meet our blogging fitness specialists at the NIFS website.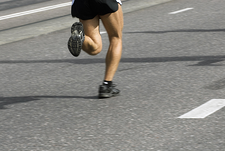 If you've always wanted to run in a 5K road race (or any road race, for that matter) but haven't because you are not a runner, listen up: You do not have to be a "runner" to run. Anyone can run! Get yourself ready for your first 5K by following these guidelines:
Start slow: Doing too much too soon is likely to result in injury. It may sound obvious, but if you are a beginner, opt for a training program that was designed for beginners, such as Couch to 5K. Have realistic expectations. Don't set yourself up for failure. Don't compare yourself to other runners—we are all different and will progress according to our own body's schedule.
Warm up: Warming up prepares your body for aerobic activity. It gradually revs up your cardiovascular system and increases blood flow to your muscles to ensure that they are getting the nutrients and oxygen supplies they need to sustain an activity such as running. Warming up is also crucial for minimizing injuries.
Cool down: Immediately after your workout, take time to cool down. This gradually slows your heart rate back to resting and slowly reduces the temperature of your muscles, which may help reduce muscular injury, stiffness, and soreness.
Stretch: After you cool down, your muscles will be warm and pliable, making it a perfect time to stretch. Regular stretching increases your flexibility, improves circulation, and helps maximize range of motion in your joints. Simply put, stretching makes moving easier. It may also help reduce injuries.
Stay hydrated: If you prefer not to bring a water bottle with you on your run, make sure you are adequately hydrated before you hit the pavement. It is also important to make sure you hydrate after your run to replace the fluids you lost through sweat. If you do not properly hydrate, you could fall victim to muscle cramps, prolonged time to recovery, and other dehydration-related ailments.
Now that you know how to prepare, which race have you been dreaming of running?