This blog was written by Mara M. Winters. Meet our blogging fitness specialists at the NIFS website.
Hit TV shows about weight loss such as The Biggest Loser and My 600-lb Life continue to excel in ratings, and we are bombarded daily with new information about how excessive weight negatively affects health. However, U.S. obesity prevalence remains high.
Recent studies show that overall obesity prevalence in the U.S. is 35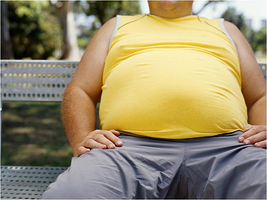 .7 percent in the adult population and 16.9 percent in children. Over the past two years (2009–2010), there were significant increases in obesity for men of all ethnic backgrounds compared to data from the previous studies (1999–2010). There were no significant increases among women overall, but researchers found statistically significant increases in African-American women and Mexican-American women. Another sobering finding of the studies is that children are going into adulthood weighing more than ever before.
While this report seems a bit grim, there is hope. The Journal of the American Medical Association reports that over the past 12 years, the obesity rates among adults and children are not increasing.
While no one can say exactly why there has been a stall in the obesity rates, most experts are hopeful that national campaigns in promoting healthy eating and exercise are having some type of effect. We know that obesity costs the U.S. $147 billion every year and is a major health problem.
Many corporate wellness centers offer unique ways to curtail obesity, such as the following:
Body composition screenings and health assessments
Weight-loss contests and incentive programs
Group fitness classes
Educational telesminars about healthy living
While it seems U.S. weight gain has leveled out, we will still feel the effects for a while. Take advantage of wellness services available to you to reduce problems caused by obesity.