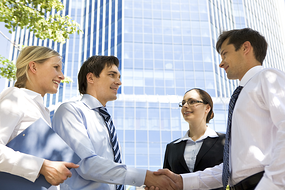 In our more than 20 years of managing clients' fitness centers, we've filled out our fair share of requests for proposals (RFPs). We've seen hundreds of questions, and we've written hundreds of pages. (It's a lot of tree-killing, we know.)
I'll be honest: we'd rather just get to know a client, talk about if and how we can meet their needs and exceed their expectations, and then build a business partnership from there. The whole RFP thing is, well, impersonal and frankly exhausting. That's ironic considering this business is about relationships; helping people improve their health is about as personal as it gets.
Of course, I understand a company's need to benchmark all candidates and set up some kind of apples-to-apples comparison among vendors. But there has to be a better way to do that "do we want to do business together?" dance.
Despite my griping, RFPs are indeed here to stay, and we're not always on the back side of an RFP. Occasionally we get asked to outline some relevant RFP questions prior to the issuing of the request. After all the question-and-answer we've worked through, I thought I'd put these out there as our top 10 favorite questions to answer. Some of the questions make it on our top 10 because we feel confident with our answers. Other questions made it onto the list because it helped us improve our service to current clients. A few, and maybe you can spot them, made it to the list because of how downright ridiculous they are.
In no apparent order, here are NIFS's top 10 favorite RFP questions:
Describe your candidate interview process. Describe the credentials of your fitness staff.
Explain your philosophy on collaborating with other wellness vendors. Provide examples of when you have worked with other vendors to create well-rounded programs for your clients.
What steps do you take to provide a safe fitness center for the members?
How do you measure member satisfaction? Provide an example of a tool you use to measure satisfaction.
Do you have any experience implementing fitness trails? Would you be able to support this initiative in our employee park?
Please provide a summary of what you expect us (the client) to do to make the onsite fitness center successful.
Explain your experience at designing and equipping corporate fitness centers for other clients.
What services are provided to fitness center members free of charge? What services does your staff provide that are fee-based?
Do you have any experience with bicycle loan programs? We would like to consider having bicycles available for checkout for employees to use for exercise or as transportation from one building to another. Describe how you can support this initiative.
What is your philosophy on leasing versus purchasing equipment?
Feel free to use these questions in your next RFP, or call me to discuss other options. If you have a ridiculous question to add to this list, please leave your comment below. We're all ears!
If you'd like NIFS to fill out an RFP for fitness center management for your business, contact Bethany Garrity at bgarrity@nifs.org or 317-274-3432 x208. We'll do it, but we'd rather spend time getting to know you, discussing your needs, and deciding whether the business partnership is mutually beneficial.