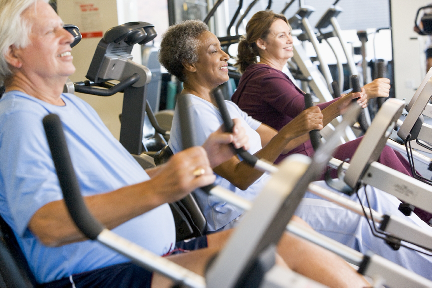 Physical activity and exercise are two different terms that have similar concepts. Physical activity such as gardening, walking the dog, mowing the lawn, shopping, and taking the stairs gets your body moving. Exercise is a form of physical activity that is specifically planned, structured, and repetitive, such as strength training, yoga, or aerobics class. Both physical activity and exercise are great for seniors to keep up the daily activities they enjoy.
Is Your Physical Activity Decreasing?
It is common that the amount of physical activity we perform declines as we age. For instance, how many times have you heard, seen, or even said the following:
"I just can't shop at the mall like I used to. It just seems so big!"
"Let's take the elevator; the stairs are too strenuous for me now."
"I hired the neighbor to mow my lawn once a week; it is just too difficult for me anymore."
"My daughter comes over to help me with my housecleaning once a week; it has just gotten too difficult for me to do everything."
"I gave up gardening; it just got to be too much."
These phrases are all examples of common physical activity that may decrease in volume with age. Does any of these phrases sound familiar to you or maybe a family member or friend? If so, and you do not feel that you are getting enough physical activity in your life; it is beneficial, if not critical, for you to start an exercise program.
It's Never Too Late to Start an Exercise Program
Good news! Exercise programs can be modified and designed to fit the needs of everyone, no matter the age, ability, or level, and it is never too late to start. So whether or not your physical activity level has decreased, there is always an exercise program out there for you! More good news! Once you start an exercise program, some of those physical activities that were "too much" before may be worked back into your life!
Check out these tips from the American College of Sports Medicine, "Starting a New Exercise Program and Sticking With It."
Staying physically active and starting an exercise program can improve your balance, help manage and prevent disease, help reduce feelings of depression and improve overall well-being, and improve your ability to do things you want to do!
Do you feel like your amount of physical activity has declined? If so, what have you done to stay active? Maybe it is time to start an exercise program today!