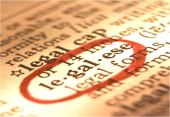 In this blog series, we're focusing on why fitness fails as part of a corporate wellness strategy. The first two truths looked at how boring fitness programming is dying on the vine and how crucial multilevel organizational support is often missing for wellness elements that are low on the totem pole.
Before I jump into truth #3, let me provide a brief intro by way of a true story.
A woman joins a fitness center, signs all the required paperwork (including a waiver and release of liability), and embarks on her first studio cycling class. At the beginning of the class, she tells the instructor she's new to the gym and new to cycling. So the instructor helps her get set up on the bike and advises the new participant to watch him (the instructor) closely for direction. Part way through the class, the instructor advises participants to stand while they ride. As this new member stands, the handlebars dislodge from the bike frame and the member falls to the floor. She sustains injuries that result in long-term chronic pain in her upper extremities.
She sues the bike manufacturer and the gym she joined. In the end, the gym walked away without financial liability to the plaintiff (although they no doubt paid their counsel significant sums to argue on their behalf). The court's decision came back to the club's use of a waiver.
Ladies and gentlemen, I give you truth #3:
Truth #3: Fitness initiatives fail as part of a corporate wellness strategy because liability and safety are either overlooked or overanalyzed.
We live in a litigious society. There is no getting around that and businesses know it. The best you can do is make sure you're prepared, that you're practicing industry-accepted norms with respect to gathering and protecting health information as well as securing participant signatures on well-written waivers.
Over- or under-responding to liability concerns will get you in trouble. Below we look at each of those scenarios.
The Perils of Overlooking a Corporate Wellness Liability Policy
Sadly, despite the level of corporate policy and legal mumbo jumbo found in employee handbooks and on other business procedures, organizations sometimes fail to plan for their liability in connection with fitness opportunities as part of their corporate wellness strategy.
Nothing will shut down your fitness initiative faster than someone getting hurt in a program that wasn't built with the right liability-managing procedures.
Yes, you should be using a well-written and easy-to-understand waiver for your walking program and your group exercise classes. Yes, you need to be thinking about how your liability carrier will react when they learn that you allow spouses into your corporate fitness center after someone has filed a claim. Yes, it is a good idea to have a corporate wellness policy about flex time that allows employees to exercise at work. It should also stipulate that their exercise at work is 100 percent voluntary and not subject to Workers' Compensation.
I can't tell you how many times I've been brought in to consult on a project to build a new fitness center as part of a corporate wellness strategy overhaul and the client has given no thought—zero, zippo—to how they will deal with their liability in the onsite fitness center. The thing about this is that there actually is a whole set of standards and norms for running a fitness center that, when well executed, well documented, and regularly reviewed, is part of a great quality and liability-management practice.
Overthinking Corporate Wellness Liability
While it is more commonly the case that liability is overlooked, there is also the potential to overthink your liability and thus end up paralyzing your programming. Far too many quality fitness initiatives are pulled off at businesses on a regular basis to allow your programs to get stalled by a legal team that is afraid to move. There is a happy medium on this issue and it lies in that place I described earlier: the one where you acknowledge the risks, you take the best steps you can to protect against them, and then you get on with it.
Once you find that balance in managing organizational liability with corporate fitness initiatives, you can put more energy back into developing creative programs (truth #1) and cultivating relationships with key stakeholders throughout the organization who can support your fitness initiatives (truth #2).
Up next, in the fourth part of this series, I'll talk about the importance of moving beyond your "I'm not good at math" mantra to dig deeply into program evaluation in corporate fitness. (Yes, there's math involved, but you can handle it!)
Looking for one resource that contains all four of these truths about why corporate fitness initiatives fail in corporate wellness? Download our eBook for the full series.