We recently wrapped up our Build Vitality webinar series for 2013 with the fourth and final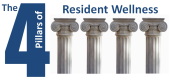 webinar titled, Build a Better Wellness Program. The focus was on four key areas - pillars, if you will - that cultivate a compelling living-well culture in retirement communities.
Your wellness program should be evidence-based.
That doesn't have to be as intimidating as it sounds. In fact, you probably already have some evidence-based programming built into your wellness offerings. They are fairly easy to find in physical dimension programming. Administering a senior fitness test? That's evidence-based. Providing balance training and fall-prevention support? That's evidence based.
Your wellness program should be resident-specific.
This really should go without saying, but I can't tell you how many times during my consulting work in senior living communities across the US, when I ask activity directors why they're doing a specific program, they cannot provide me with a sound answer. When your programming is focused on the residents, on the community, and on the Community (outside your four walls), you can cultivate meaningful, engaging, fulling opportunities for living.
Your wellness program should be data-driven.
How much do you spend on group fitness classes each year? Have you ever evaluated the impact of that money? If you host roughly eight classes per week, you're probably spending $10,000 per year on group fitness. When was the last time you dumped $10,000 on something without asking about the impact of that money? Get the data you need from your wellness programming so that you understand if/how it's working for your residents and for your business.
Your wellness program should be story-worthy.
What's the point if you can't capture resident stories of life well lived? This really is the capstone - if the other three pillars (evidence-based, resident-focused, data-driven) are all aligned, the stories will inevitably follow. Get creative in how you use the stories both to engage more current residents and to communicate to prospects how they can live well at your community.
To get the details behind each pillar, watch the 30-minute webinar using the button below. To download all four webinars in our Build Vitality Series, go here.