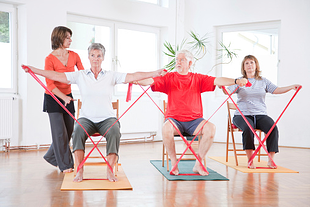 It is a time of change and excitement. Out with the old and in with the new. Things will be bright and shiny and…different. During the short or lengthy time that your fitness center is undergoing renovations, how do you gratify your members? Having a cutting edge corporate or active aging fitness center is what everyone strives for…but if you don't have any members waiting for the renovations to be completed, then the doors will close before they can be reopened. Keep three things in mind during your fitness center renovations to ensure that your members are knocking on your fitness center's door the minute they are reopened: 1. Keep members active 2. Keep members interested and 3. Use what you have.
1. Keep members active:
Equipment Substitutes

Is another temporary space available that you can provide a workout area to members in the meantime? If so, relocate smaller equipment such as:
These may or may not be items that members have utilized before so seize this opportunity to demo the equipment and provide workouts with the item. These exercises can carry over with the member's routine long after the renovations are completed.
In addition to the smaller equipment, provide exercises using only body weight.

Burpees

Lunges

Planks

Push-ups
…what else? There are tons! Create a workout with combinations of the body weight exercises. Try intervals or time based challenges. Some members might love to make it a relay in a group setting. Be creative.
Group Fitness Schedule

Market your Group Fitness Schedule. This is a great opportunity for members to expand their fitness regimen to include a group fitness class that has caught their interest. Body Pump, Boot Camp, Circuit, Body Stretch…whatever suites a member's fancy.

Add a bonus group fitness class(es) to the schedule. This will provide a nice option for members who are disappointed that their regular exercise routine was thrown off due to renovations. Implement a group fitness class that you've been wanting to test out. Whether the class is a staple in the schedule or a promotional session, seize this opportunity to promote your group fitness classes.
2. Keep members interested:
Programming

Your plans for programming will most likely differ from the norm. Keep members interested by implementing an attendance based incentive program to encourage members to keep up with their activity routine then list several options.

Communicate

Keep your members informed by maintaining an open pathway of communication. Communicate to your members about what is happening in the Fitness Center. What are their fitness options in the meantime? Helpful tools: residential newsletters, in-house TV stations with daily event information, flyers in common areas, personal notices and phone calls can all be means used to successfully communicate.
3. Use what you have:
What sets your facility apart? Do you have access to:

Pathways

Trails

Recreational sports areas

Lakes/water

Swimming pools

Fields

Stairs
As long as it's safe, the world is your playground. Target local features and landmarks to mix into the planning.
Have you found other successful alternatives to exercise while the Fitness Center was undergoing renovations? Share your best solutions!