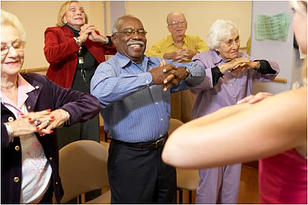 When a resident moves into our community, I've found that they are often overwhelmed with the amount of information they've been given upon arrival. There are tons of activities and clubs offered by our community, but I really believe that residents benefit the most from joining our fitness center. (I'll admit, I'm a little biased!) Here are a few successful ways I've found of encouraging new residents to join in on our fitness programming:
1. Visit them when they first move in to the community.
In order to be sure they have the time to ask questions and really consider becoming a member of the fitness center, I go to visit each new resident within a few weeks of their move-in date. I want to give them time to get settled, but not so much time that they've filled their schedule with other things. During that visit, I'll take about 10-15 minutes to explain all of the fitness offerings and programming we have within our community. I usually end up staying twice that amount of time because, once they hear about our awesome program, many of the residents have questions about how to join or about how they can benefit from the fitness center. It's also a great time to start building some rapport with each person as an individual. Rather than just becoming "that exercise leader" to them, you can have a relationship with each person individually and really make them feel like they will be missed if they don't participate.
2. Set up appointments.
After working in this field for a while, each person starts to develop their own system for keeping members committed. One of my most successful practices is simply in making appointments with new members. People of all ages are much more likely to show up if they have an appointment and feel like they will let someone down if they don't keep it. I try to use that to my advantage when keeping new members engaged. When new members turn in their health history form and waiver, I set up an orientation appointment with them. At their orientation appointment, I typically recommend a few group fitness classes and set up a senior fitness test. At the senior fitness test, I make an appointment for an exercise prescription. By that time, they have met with me and come to classes anywhere from 5-10 times and they have begun to build a habit. It's a simple, but effective way of getting them into the fitness center enough times that they begin to see a benefit from exercising.
3. Sell your group fitness classes.
This one won't work for every potential member, but I can tell you that it works for most people who come into our fitness center. Group fitness is one of the hottest things we have going here. Residents will miss out on all sorts of other events if they are scheduled during our Balance Class. I believe there are several reasons for this. First of all, it's a social activity. We have anywhere from 10 to 30 people come to Balance Class on a regular basis so it's a great place to meet up with people and to meet new people. Second, they feel missed if they aren't there. I try to make it a point to talk directly to at least one different person in class each day. Ask them how their day is going or how their grandkids are. I believe building these relationships is important because then they'll know we miss them if they aren't there. Third, and perhaps most importantly, they feel the benefits! I can't tell you how many residents have come up and told me how much they can tell when they miss a few classes. I aim to give them a good workout every day so that they can keep their independence and this is what really keeps them coming back for more.
What are some successes you've had getting new residents involved in fitness programs?