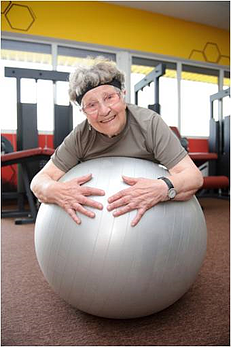 Everyone needs a starting point. Anyone who has ever tried to begin a new exercise program knows that the first few weeks often determine whether you stick with the program or not. I often have residents ask me where to begin and while different considerations have to be made for each individual's situation, I've found that this is usually a good starting point.
1. Try not to overwhelm them
A few times per week is plenty for an older adult who is new to exercise. We're trying to build a habit and that takes a little time. For someone who was previously sedentary, doing structured exercises 3 times per week is plenty. I do try to encourage people to take a short walk every day so they are getting up and moving around more than they're used to. (And walking down to the dining room doesn't count!)
2. Include a little cardio, a little strength, and a little flexibility
Barring any special circumstances or directions from their physician, it's safe for older adults to include a large variety of exercises in their routine. Aim to be well-rounded. It's good for the body and it helps to keep them interested as well. Cardio exercises could include things like walking, riding a bike, or just working out on the Nu-Step or elliptical. Start out for 10 minutes at a time and work up from there. Strength exercises should be functional and safe for the older adult. Using variable resistance machines is usually a good place to start and it can help to build the confidence of your new exerciser. Always include flexibility exercises as well. You've all heard "use it or lose it" and this applies to mobility and flexibility just as much as any other area.
3. Always include balance exercises
My most successful residents are the ones who do balance exercises most days of the week. Practicing those tasks not only makes them more stable, but also really boosts their confidence. It's an area where a lot of them feel unsure of themselves and a little fearful so showing them that they can do something to change that feeling can really help.
4. Modify, modify, modify
It's easy to try a "one size fits all" model for older adults. Many people just assume that they can't do the same things as someone who is younger, but this isn't true! As our population ages, there are many circumstances where people have been exercising their whole lives and are still very capable of difficult exercises. Don't be afraid to challenge people a little bit. On the flip side, many people are just beginning an exercise program with the goal of maintaining their independence a little longer so don't be afraid to modify exercises down to their abilities as well.
Do you have tips and tricks that work for beginners in your community?