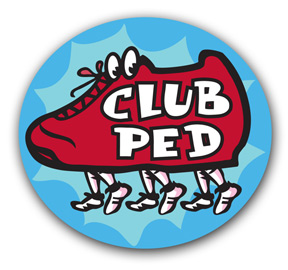 At our client sites, we've been offering walking initiatives for years. After all, it's kind of the original fitness opportunity at worksites, right? They're super-simple, generally easy access for participants, and most people can participate. For better or worse, we've steered clear of linking the program with pedometers, but we do get a lot of really useful self-report data from participants for the program.
The Basics of Club PED
It's a mileage-driven walking and running program, and with some of our clients, we run this initiative annually. It's become such a staple in our program planning that associates ask about it, wanting to be sure they don't miss the registration.
Participants self-select into their desired weekly mileage goal: 5 miles per week, 10 miles per week, or 15 miles per week. They can complete their mileage anywhere, including walking the halls at work, in the corporate fitness center, or on vacation at the beach! The goal is to maintain their chosen goal mileage each week for the duration of the program. We allow a few "off" weeks (you know how life gets in the way), so participants must maintain a minimum of their goal mileage for 8 of the 10 weeks of the program.
We've witnessed participants start out lacking confidence that they can finish 5 miles per week for 12 weeks, and by the time the next year rolls around, they have a 5K or 10K under their belts with an eye toward upping their Club PED mileage goal.
The Data from Club PED
As I mentioned, we've been running this program for years. But in the last two years, we have seen some important jumps in participation and completion rates.
In 2012 and 2013, we averaged 59 miles per participant, which means that a typical Club PED member walked 7.4 miles per week beyond his or her normal daily activity. This represents a 34% increase over the average miles per participant for the preceding three years. Another positive trend in the last two years is our finisher rate. Our staff saw an average of 44.6% of Club PED participants successfully meet their weekly mileage goal for the duration of the program. From 2009 to 2011, we achieved a completion rate of 30%.
I know our staff are really proud of how hard their members worked to meet or exceed their mileage goals during the most recent Club PED offering, and I'm excited about the positive improvements the staff have worked hard to achieve.
The Feedback from Club PED
We get positive feedback from this program each time we run it. I don't know if it's our staff, the program's simplicity, the low threshold for entry, the easy-to-use online portal, or a combination of those factors. Regardless, we're always honored by the unsolicited compliments we receive. Here are a few examples of the ways this simple initiative has helped to improve members' lives:
Thank you so much for the program. Because of it, I bought a Fitbit and continue to wear it daily. Can't say I move as much as when I've had jobs out of the house, but I am [more] aware of my steps and take more breaks to move around.
—Dana, Ohio
I have been faithful to my walking, getting 4 to 5 miles per week. This Club PED program really helps me focus on my health and on keeping my blood pressure down. Staying healthy is my life change.
—Latongi, Georgia
To learn more about Club PED or other programming that our corporate fitness management staff can bring to your worksite, contact me.