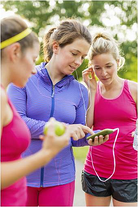 Are you looking for fitness tips, a little extra motivation or some exercise accountability? There's an app for that! Over the past few years, health and fitness apps have grown and can provide information such as, distance and pace, strength, circuit and flexibility routines, estimate calorie expenditure, and some can measure your heart rate. Some apps will send daily fitness tips or motivational statements to help keep you on track with your exercise routine. But, if you've ever tried to search for health and fitness apps on your phone, you know how overwhelming it can be.
There are hundreds and hundreds of fitness apps out there for your smart phone. I have narrowed them down by choosing a few! Upgrades are available for some, but the free versions work well by themselves as well.
Fitness Apps
Run/Walk Trackers
You can find more detailed descriptions and reviews online and decide for yourself which apps will help you the most. What is your favorite fitness app? Comment below and share or jump over to our NIFS Fitness Management Facebook page and tell us your favorite!