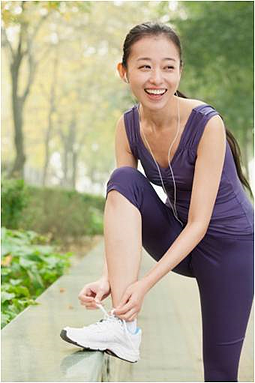 Are you new to running or have you been a runner for some time now? Either way you may be experiencing the typical aches and pains, such as muscle soreness or blisters, but have you experienced the numbness and tingling in your feet while running? It feels as though you have pins and needles in your feet or like they seem to have 'fallen asleep' from this weight-bearing activity. If so, don't get your shorts in a bunch. You may reconsider a trip to the doctor, but it will be okay. Promise!
This strange and annoying sensation is common, but does seem to cause worry. This feeling is usually caused from pounding the pavement or treadmill, cramming the your foot into a narrow shoe, or crowding the foot by the gradual, but hardly noticeable swelling. What you are feeling is a compressed nerve often causes this feeling. The numbness can progress along the top or bottom of the foot and sometimes into the ankle. The specific site on the foot that is feeling numb is usually where there is a compressed nerve. The most common area affected is outside of the third toe and inside the fourth toe. This sensation is known as Morton's neuroma. Through time, the nerve will slowly develop a thickened coat of scar tissue.
You can try a few simple actions to reduce the pressure in your foot. These actions include choosing a shoe with plenty of toe space, using a pad in the shoe, placed under the ball of your foot, allowing the spread of the bones apart. If this does not work, your doctor may recommend a cortisone injection to provide some relief. If this does not describe the numbness in your foot, continue reading!
Compression of the nerves passing through the front of the ankle or top of the foot causes numbness on top of your foot. This is usually caused by over tightening the shoelaces. People with high arches are more susceptible to this issue. This can be resolved by loosening the shoelaces, using a modified lacing method, or applying padding under the shoe tongue may help reduce these symptoms.
Other options to consider include a period of rest or orthotic shoe inserts. If the numbness persists and is not relieved by any of these methods, it may indicate a medical condition and require you to seek your physician. Before scheduling an appointment with your physician you can always talk to a staff member in your corporate fitness center that may have helpful suggestions!
Check out this blog from one of our health coaches about her experience with finding the right shoe!
Enjoy more blogs like this, straight to your inbox! Subscribe below.