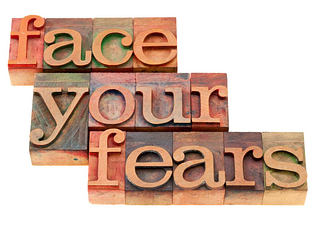 My earliest memory of my biggest fear was around age seven or eight. I was playing in my backyard with my childhood best friend on the swing set. We were running around it trying to catch each other when I slipped and fell, cutting my arm. I didn't even realize I was bleeding until my friend pointed it out to me. Immediately my heart started to race, palms began to sweat, and I quickly lost all the color in my face. The next thing I remember is my Mom and friend standing over me as I lay on the ground after passing out. Every encounter with blood after this episode only amplified this fear, often resulting in avoiding certain situations such as routine blood draws or even jobs that required me to be able to perform a finger stick cholesterol test to fitness center members. Finally, after living with this fear for over twenty years, I finally made up my mind that it was time to face it. What is the one big fear you have in your life? Are you ready to face it?
4 Tips to Facing Your Fears
1. Start small: Break down your fear and anxiety into smaller, more manageable pieces. I even listed the out in order from 1-10. (10 giving you the highest amount of anxiety and 1 just a small amount) Slowly work your way up the list as your anxiety reduces overtime.
2. Celebrate small victories: Are you afraid of heights and climbed a high amount of stairs, reaching a high elevation? Celebrate that! Have you wanted to take a group fitness class and finally worked up the courage to try one? Way to go! These small victories overtime will help you conquer your fear.
3. Ask for help: When I knew I wanted to overcome my fear, I asked for professional help. I know there are plenty of physiatrists that specialize in overcoming fear and anxiety. There are lots of resources online or by checking with your primary care physician.
4. Take action: Whether you are afraid of heights, spiders, or needles, you must physically face this fear. I overcame my fear of needles and blood with a standard blood draw. I may have looked like the man below, but I did it! (And didn't pass out!)