Your employees may see your corporate wellness offerings as the same thing over and over. They might even feel pressure to participate which can often lead to them not participating at all. Consider what might engage employ
ees in a way that makes it fun, a break from work, or even stress relief. Our corporate fitness staff take client employees back to the days of elementary school RECESS!!!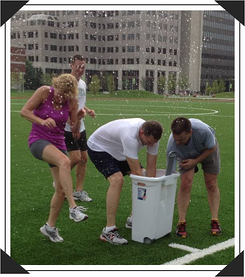 Whether it be a single day event, a scheduled group fitness class, or even one day a month throughout the summer consider creating physical activities for your employees that create a fun and welcoming environment for them to be active. Our staff established recess workout events with a carefree kid-like mentality to engage employees in a full body workout. Recess events were established to help increase strength and agility while releasing that inner child to get outside and have some fun.
Sample Recess Ideas:
· Fitness Freeze Tag – a great way to warm up, just like when you were a kid get employees moving with a game of tag.
· Staff Says – just like Simon says, but insert the leader's name. Participants do whatever this individual instructs employees to do, think exercises! For example, Simon says, do 5 pushups and once a person is out they do a walk/run lap around the area.
· Red Light, Green Light – get your heart rate up with a game of red light, green light!
·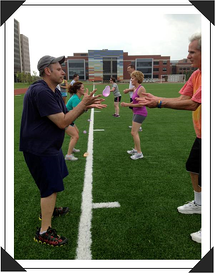 Duck, Duck, Goose – add a twist to the old school game, have participants hold a plank or perform sit-ups while one individual walks around deciding who will be goose.
· Kickball – get moving by setting up some bases and get a friendly game of kickball going at lunch time. Nothing says recess like a game of kickball
· Ultimate Frisbee – split into teams and take it out doors for some ultimate Frisbee. Add a twist to the game and if they drop the Frisbee they have to complete a designated number of pushups.
· Hula hoop - competitions are another great way to take it back to the day of recess fun. What a great core workout hula hooping can be. Simply turn it into a contest for a little competition among co-workers.
Plan for Recess Success:
· Budget and organize in advance – plan activities ahead of time to help outline what you need to purchase and incorporate into your budget. An investment in hula hoops, a kick ball or Frisbees can be utilized again in the future.
· Promote accordingly – spread the word to promote your recess event, send an email, post flyers, utilize CCTV if available, announce the event during other organized meetings, group fitness classes, etc.
· Ask for feedback – connect with participants following the event whether verbally or via a survey. Collecting feedback, both positive and negative, is one of the best ways to improve your programming in the future.
Not only did the employees like the change in their workout, they had a lot of fun. Check out what participants had to say about the Recess Program:
"The staff keeps fitness fun and entertaining! ….The RECESS class was the perfect mix of childhood memories, fitness, and fun. Kickball and musical resistance bands were my favorite!" – Karen E.
"This was a great break from the routine. The games were creative, but the exercises still demanding." – David C.
"Thanks for showing us corporate types that we can still have fun at work!" – Don H.
"Both of the Recess classes got me out of bed at 5:30! I was wonderfully surprised how effective and fun the workouts were…. The whole time though, everyone was smiling." – Jennifer P.
"Absolutely loved it! Felt good to just be goofy (duck, duck, goose, and tag) and enjoy a fun game of kickball." – Donna K.
"It is hard to top a day that starts with chasing and throwing water balloons at your coworkers!" - Irma T.
For more of our best practices, click below and recieve 10 other programming ideas implemented by our corporate fitness staff!