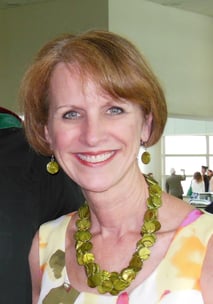 If you work in fitness, you know that for some members, the only way to engage them in regular exercise is through a group class setting. Some people love the energy of a group effort, others like that they can blend in, and still other participants like group classes because of the ease of simply following real time instructions from a motivating teacher.
For Sheila Dropscho, it's the group atmosphere that keeps her coming back to NIFS-led classes at Broad Ripple Park in Indianapolis. She also walks and rides her bike for exercise, but when I talked to her about her experience with the classes she's been attending for the last several years, the enthusiasm in her voice was palpable and she couldn't say enough about the positive impact the Indy in Motion classes have had on her life.
Indy in Motion is a partnership between the Marion County Health Department, Indy Parks, and NIFS. The group fitness classes, held at a variety of Indy Parks, have been available for years and are offered at no cost to participants. The formats and locations have evolved over time to meet the interests of the attendees at each site. The program is a fantastic resource for people across the city to have access to free group fitness classes taught by some of the best instructors in the area. To get a better idea about classes and formats available through Indy in Motion, click here. Be sure to call the park to confirm that the information on the site is current.
Sheila learned about the Indy in Motion program through an article in the paper several years ago. When her youngest daughter went off to college, Sheila found herself with more time to commit to her personal health and she decided to give the program a try. While Broad Ripple Park is her home base, she also takes Indy in Motion classes at Washington Park on the city's east side.
Sheila's favorite class at Broad Ripple is Zumba® on Tuesdays and Thursdays; she tries not to miss it. Sheila loves being around the other participants and watching their progress, but it's the instructor, Nicole, who provides exactly the motivation Sheila needs to keep coming back. Nicole's healthy tips, her intensity with the music, and her genuine concern about the participants are all part of what help Sheila feel great about the exercise and keep her coming back.
Sheila's consistency at class hit a snag when she was diagnosed with breast cancer recently. She progressed through a mastectomy as well as a course of chemotherapy. And she's proud to say she is cancer-free. But she credits her hard work in the group fitness classes and her good health going into the diagnosis for the relative ease with which she handled the challenging cancer treatment so well.
Sheila said, "People were stunned that I was able to work my four 10 hour days during my chemo. I don't know that I would have been able to do that without that foundation."
After recently undergoing reconstructive surgery and dealing with a complication from that process, her doctor has advised her, for now, to simply walk for exercise. Sheila has been compliant with the doctor's orders, but she confided that she's more than a little bit eager to get back to her Tuesday/Thursday rhythm with Zumba®.
When Sheila's ready, her class, and her instructor Nicole, will be there to help her get her groove on again.
Ready to bring group fitness classes to your Indianapolis audience?