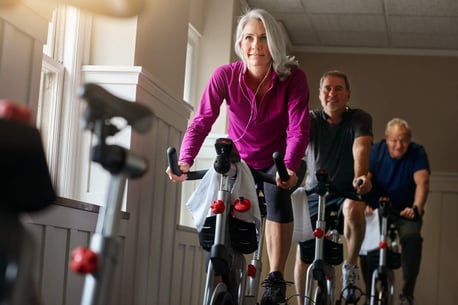 What Makes Cycle So Great?
Ready to switch up your cardiovascular fitness routine? Give indoor cycling a shot. A cycle class has the capability to give you an intense workout while keeping the impact on your joints at a minimum. The group environment of a cycle class allows you to feed off the energy in classroom and the instructor, while motivating your fellow participants.
Indoor cycle is a great workout for all fitness levels. Each participant can determine their own desired difficulty based on the instructor's cues.
For Your First Cycle Class
If it has been a while or your first time in a cycle class, arrive 10-15 minutes early to get assistance from the instructor setting up your bike. The instructor will be able to tell you how to adjust your bike and what cue the form so you can be set up for success before class has started.
During the class, the instructor will remind of this proper form we must maintain even during challenging portions of the ride. Along with this, you will be guided on how challenging the ride should be and what you are looking to achieve during the ride. This gives a teamwork feel to your indoor cycling ride, while pushing to be better during each segment of the class.
Hydrate! Make sure you bring plenty of water to cycle classes. Even with the use of fans, indoor cycling gets sweaty. Don't be afraid to use active recovery portions of the ride to take a moment to drink some water and wipe of the sweat. You are working hard; you deserve a breather!
You should wear something that you feel comfortable in for cycle class. Due to the intensity of the workout, it tends to be a sweaty one. Wear a top that is made of a sweat wicking fabric. Tank tops can be great for temperature control and comfort. For bottoms, workout tights/leggings, biker shorts, or athletic shorts can all be suitable options. If the bottoms are comfortable and not loose enough to get caught on the indoor bike, you are good to go. Normal gym shoes are fine for cycle class, and you can strap into the cage pedals. If you attend cycle classes, more regularly, bike shoes that clip into the pedals are also an option.
What do you enjoy most about cycle classes? Share in the comments!