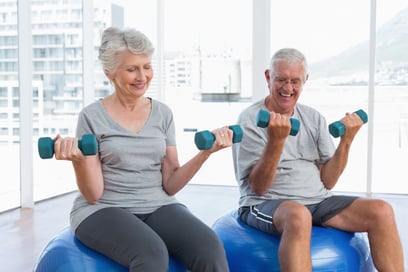 It should come as no surprise that most people aim to improve their lives in one way or another with the start of a new year. Particularly when it comes to focusing on better health and fitness, January's clean slate seems to be the ideal time to get back on track and into shape immediately following the busy holiday season and prolonged period of indulgence. This seems to be a universal practice as we have found that to be no exception for our members and residents in senior living communities!
NIFS partners with communities across the US to manage their fitness center programming. Similar to most public gyms, our staff also notice patterns related to New Year's resolutions. In the first few days of January we have come to expect an influx of participation, but these numbers start to decline after a few weeks as old routines creep back and resolutions are abandoned.
Knowing how to set goals, find motivation, build better habits, and remain consistent are all huge components of why so many "resolution-setters" fail. In fact, one study conducted by the University of Scranton suggests that only 8% of people stick to their resolutions, so we saw this as an opportunity to better support the communities and residents we serve and developed NIFS Five Star Fit Club. We piloted this program in ten communities for the first time in January 2019 and it resulted in:
Total visits: An average increase of 21% in total resident participation to the fitness centers in January 2019 compared to January 2018.
Group Fitness Visits: An average increase of 28% in participation in group fitness classes in January 2019 compared to January 2018.
Appointment Volume: Resident engagement increased by 135% in the number of appointments conducted in January 2019 compared to January 2018.
New Members: Across the communities, a total of 43 residents began participating in their fitness center for the first time as a direct result of the Five Star Fit Club program.
This incentive program is three weeks long and includes both a personalized assessment and exercise prescription as well as an interactive workshop where residents learn how to effectively change their habits and routines. Additionally, members are encouraged to visit their community's fitness center independently and attend a set number of group fitness classes. The premise of the program is for participants to earn five stars over the three-week period by participating in the mentioned programs and services. In doing so they are being recognized and rewarded, experiencing accountability, and sensing small wins all while creating sustainable healthy habits and routines to keep them on track for the remainder of the year!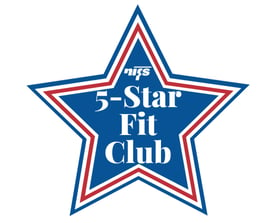 In 2020, even more NIFS clients are kicking off the New Year with the 5-Star Fit Club and we look forward to hearing about the healthy habits and lifestyle choices residents adopt. Robust programs like the 5-Star Fit Club are a great way for senior living providers to support resident well-being while increasing utilization of amenities such as their fitness centers and pools. Click here for some other programming twists brought to NIFS clients.