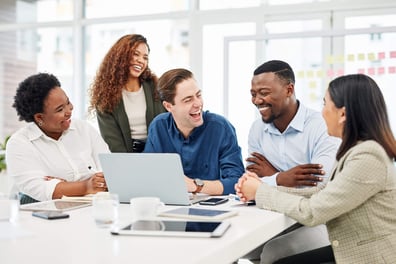 The NIFS staff often find that employees will take time away from their desk to exercise, enjoy conversation that isn't work related, or simply decompress. Our staff are great at putting the FUN into Fitness which often results in laughter during classes, conversations and that sense of community in our client's onsite fitness centers.
When it comes to health and medicine, most people think about doctors, pills, or exercise. But more evidence is suggesting that laughter can also be a part of one's treatment and can actually improve one's health both in the short and long-term.
According to the Mayo Clinic, when laughing there are not only emotional and mental benefits but also physical ones as well. When you laugh, your heart, lungs, and muscles get stimulated more, and in turn, more oxygen is delivered throughout your body. Laughing increases the secretion of endorphins that are released by your brain which makes you feel happy. It also aids in muscle relaxation.
There are also long-term benefits to laughter, too: Positive thoughts can release chemical messengers called neuropeptides that help fight stress and improve overall immunity. Laughter may ease pain by causing the body to produce its own natural painkillers and can also make it easier to cope with difficult situations. As a result, it can help lessen your stress, depression and anxiety and may make you feel happier. Socially, it also helps you connect with other people since people like to be around those who have a positive outlook. Making more connections with people can also improve your self-esteem.
Laughter and humor can also have the following effects on specific illnesses:
Lowered risk of heart diseases
Decreased risk of type 2 diabetes
Increased pain tolerance
Improved mood and self-esteem
Reduced hyperinflation of the lungs in people with severe chronic obstructive pulmonary disease (COPD)
Humor therapy (watching a 20-minute humorous movie) can lead to improved cognitive function, including learning ability, delayed recall, and visual recognition in a study that included 30 older adults.
Comedy improv training can lead to subjective improvements in symptoms for people with Parkinsons disease.
With all of these benefits in mind, it's a good reminder for us to have a good laugh every once in a while, and to have as positive an outlook as we can.