It's 2015, a fresh start, a new you and what better way to start following our Free Workout Friday blog? This year we have two new faces to keep you motivated and have scheduled out a year worth of workouts for our readers. Let's start this first Friday off by meeting the faces behind our 2015 Free Workout Friday Blogs.
Michelle Adams is a corporate fitness manager in Indianapolis. She began working for NIFS in January 2013. She really enjoys working in the corporate setting because she is able to get a good variety of being active with employees through teaching group fitness classes while also having the opportunity to design wellness and incentive programs. Michelle encourages her members to take control of their own health and is very passionate about helping others with their health and wellness goals. Michelle is currently certified through the American College of Sports Medicine as a Health Fitness Specialist, a group fitness instructor through the American Council on Exercise, and holds specialty certifications in TurboKick and PiYo.
Stephanie Hackett is a health fitness specialist at a corporate client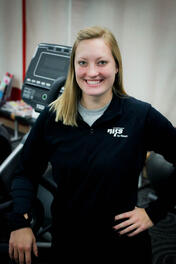 location in Indianapolis. She began with NIFS fitness management shortly after completing her internship with NIFS, Stephanie loves the variety that comes with the corporate fitness setting. She is able to teach classes, personal train employees, and implement health promotion programs. Her favorite part of the job is making those special connections with members to help engage them and keep them coming back. Stephanie is currently certified through the American Council on Exercise as a personal trainer, and is GEAR Indoor Cycling certified through the Aerobics and Fitness Association of America.
Now that's you've met our staff behind FWF's, let's get started with Stephanie as she takes you through the components of a workout each week in January!
Dynamic Stretching and Warm Up
It is extremely important to give your body a proper warm up before starting a workout. For years, static stretching was the norm. Static stretching means holding a stretch in a challenging but comfortable position for generally 10 to 30 seconds at a time. Research has shown that dynamic stretching is better for you before a workout. Dynamic stretching uses controlled movements that bring muscles through their range of motion without exceeding it. It helps promote blood flow through the muscles and to prepare the body to exercise. Start your warm up with a handful of basic movements targeting the whole body. As you become more experienced, use compound movements to warm up.
Basic: (demonstration video)
Arm circles
Marching
Squats
Lunges (front and side)
Trunk rotation
Arm raises (front and side)
Compound: (demonstration video)
Walking lunge with trunk rotation
Inch worm
Knee hug lunge
Side lunge with rotator cuff activation
Ankle grab toe touch
Arm swings across the chest
Subscribe to our blog to receive every Free Workout Friday directly to your inbox along with other great content from NIFS Fitness Management!