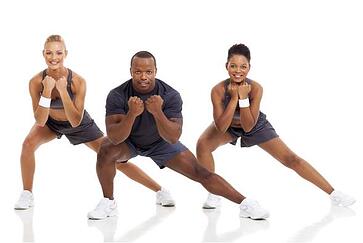 Stand on the street and ask 100 random people their feelings about going to school as a child and you will get 100 different answers. If I were asked my response would have sounded something like this, "I just want to graduate and get a job so I can be done with homework and live the easy life like adults." I'm shaking my head as I write this, but that is how I truly felt back then. No matter whom you are certain days in school were destined to be fun, and those days were when we had a SUBSTITUTE. Well today I am going to be that sub, except I won't be in a classroom with books, I will be on a track with kettle bells, plyo boxes, and resistance bands; I'm subbing for an outdoor boot camp class.
Personally I love to cover other instructor's classes, because I am guaranteed to encounter something different. The something different part is what we should all look for no matter our profession, new experiences break the monotony of our every day schedules and will positively affect our brain function. As I'm preparing for class my mind is racing and I love it, what music should I play, I wonder how many people will come, how fit are they, what if they can't do an exercise, what if we don't have enough equipment? Are just a few of the questions racing through my mind, but instructing the class and facing those questions gives me the opportunity to hone my skills, meet new people, travel to new places, and hopefully become a better instructor for the classes I already have, and for those I will sub for in the future.
I hope the same benefits I receive from instructing a new class is passed on to the class I am leading. Any fitness professional will tell you to vary your workouts to reduce boredom and to aid physiological changes. Well nothing will change things up for a group fitness program like being led by a different instructor. No matter how similar two instructors are, there will always be some differences, for example a different cadence will require a higher level of mental focus so that you can stay in sync with the instructor. Often people who have been working with the same instructor for long periods of time can go into "auto-pilot" or turn their brain off during class because they are so familiar with the routine that their body just moves without much thought as to what they are doing.
This blog is not meant for just group fitness instructors and exercise class goers, it's meant for everyone. Break your everyday cycle and try something different. It will affect an area in your life positively. For all my class goers: when that sub does walk through the door, don't pout, your instructor will be back, but in the mean time act like a kid again, let all that energy out and have a great class, after all it's only a sub!