Do you walk in Awe?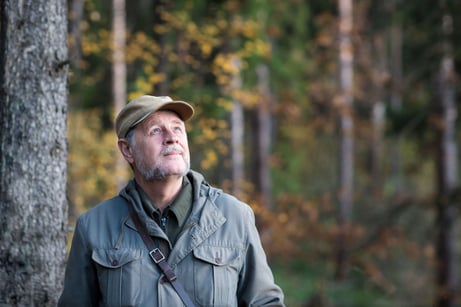 A few days ago, a resident handed me an "invitation to an Awe Walk." He had picked it up from a nearby park. He thought I'd be interested in the topic and brought me a copy. This was my first-time hearing about Awe Walking, so I was intrigued! The document invited me to not just simply focus on the present, it was deeper than that.
So, how does one take part in an awe walk? It's as simple as choosing to walk in awe. It's the intentional decision to focus on things around you rather than yourself. Instead of focusing on your to-do list or exciting weekend plans, choose to shift your attention externally to the beauty around you. The word awe can be defined as a feeling of reverential respect mixed with fear or wonder. Of course, it may not be the first time you've seen the leaves change from green to deep orange and red, but the beauty and mystery can still be stunning.
Why walk in awe?
Choosing to walk in awe shifts our attention to things outside of ourselves. This change has big mental health benefits. An 8-week study facilitated by the University of San Francisco showed that choosing to walk in awe had the following benefits: increase in daily compassion and overall well-being, a decrease in anxiety and daily negative emotions.
While you become more distracted from the stressors in your life, you're making room to notice and pay attention to things other than yourself and your own concerns. When we look away from our wants and needs for a moment, it can improve one's love of life, relationships, and worries. Decreased levels of stress can lower blood pressure, improve sleep and digestion, and decrease muscle tension. Although an Awe Walk can be done in all settings, natural, indoor, urban, there are added health benefits of being in nature. Walking in awe can be a good reminder of how small we are in this big world and vast universe. It's a great way to help us improve our perspective on certain things or life overall.
Invitation to Walk in Awe
Consider attending or attempting your own Awe Walk. Take note of the nature and happenings around. Be enthralled in it almost like a child would. Take a moment to feel the warm sun on your face and touch the flowers growing nearby, how do they feel? What do you hear? Can you find the animals that are making that sound? Have you found the water that is trickling nearby? Don't just notice the nature around you, experience it. Intentionally. Fully. Try these prompts on your next walk!
Begin your walk by bringing attention to your breath. Take nice slow and deep breaths - let your belly expand more than your chest.
Notice your steps on the ground. Do they make a soft sound? A loud crunch? Do you feel anything? This warms up your awareness to the sensations that are easily forgotten on an unintentional walk.
Be open to experience an Awe Walk. Allow things to spark your curiosity. Do you notice something that gives you a sense of pleasure or surprise?
What catches your eye? Is it the wispy clouds in the sky? The windy path or maybe the comfort of a path you've traveled before? The color or smell of the flowers?
Allow this sense of wonder, excitement, inspiration carry on into the rest of your day and further.
Try an Awe Walk! Tell us about your experience!