Are you seeking ways to introduce healthier elements into your work environment and meetings? It's a great idea and one that makes employees feel appreciated and valued by their organization. In surveys where employees are asked if they are supported by their company or manager, too many times I've seen that they do not respond with positive feedback. What I DO see is a plea for better options and support from their managers as they try to implement a healthier lifestyle. I also don't think they are looking for a grandiose gesture, but just sincere thoughtfulness that makes them feel like their employer CARES for them and their well-being. If you'd like to raise the bar on how your employees feel you're supporting their health, follow our 3-part blog series on designing a healthy workplace.
Let's start with the elephant in the room. FOOD.
Hit the bar – Don't get too excited, I'm not talking the place you go for happy hour. I'm talking about hosting a healthy food bar at work. The all too familiar donuts, cookies, and cakes that are served as rewards and celebrations is getting to be too sweet of a deal. It's a nice thought but what your employees may rather have is something that they can indulge in and not get off track with their nutrition goals.
Rather than rewarding with sweets, try offering something that communicates your commitment to helping employees live well. Consider hosting a healthy bagel bar (buy the mini bagels) with low-fat cream cheese options, smoked salmon, PB&J, avocado, almond butter, hard boiled eggs and bananas as toppings. Try a yogurt bar that you can fill with fruits, nuts, seeds and honey. You can also go vegan, and avoid lactose with some non-traditional varieties of yogurt. If you're looking for something to top that, why not bring in a smoothie vendor to offer several of their most popular varieties? These can have ingredients that include your favorite fruits but also vegetables, wheat grass, green tea, vitamins, and protein powder. Can I get an AMEN for sneaking in veggies and other healthy ingredients?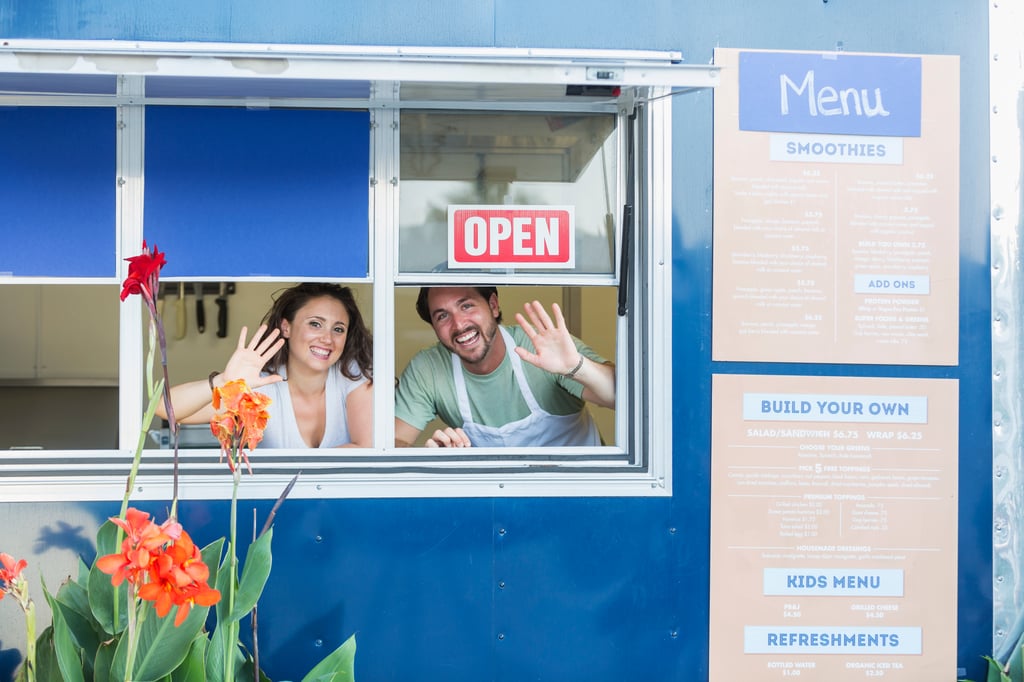 Truck it – I'm talking about Food Trucks of course! These days, there are a variety of choices for bringing healthy options TO your employees. Yes, there are plenty of unhealthy options in this area but I'd like to focus on something modern, different and possibly out of the ordinary for rewarding your employees. I suggest you to take some time to research local, healthy food trucks. You'll find varieties that include smoothie trucks, fresh organic salads and sandwiches, locally raised and hormone free options, vegan trucks and changing menus depending on what's in season. Not only is this a trendy idea but it supports your local businesses and it also gets your employees up and moving toward fresh air.
If this event goes over well, you could line up several healthy options in the future (for example, first Friday of the month is "Food Truck Friday"). Some trucks might need a guarantee so they know the trip is worth their time, but if you can provide a certain amount of free sample items for your employees, most likely they will purchase more when they get to the front of the line. That's a win for the employees and for the truck owner. If your culture supports an eat-at-your-desk mentality, you may have to get creative to encourage your employees to truly use their lunch break. (Side note – it also supports your local economy, so this is truly a win-win.)
Demo-day – You've probably tried something like lunch and learns, health professionals coming in to do presentations, and different health screenings. I don't think these are a bad idea in their traditional form, but how about considering something more light-hearted, that smells delicious and is also educational. See what you can cook up for a chef or a registered dietitian offering a healthy cooking demonstration for your employees. Not only do the employees get some delicious taste tests at work, but their families may also benefit from new and delicious recipes as well.
The reward system – It's common to see food as a reward for a job well done. But I'd like to turn that on its head. Providing access to healthier choices for your employees creates a whole environment and workplace experience that's rewarding. There are several ways you can do this and I'm sure at least one will be doable at your organization. If you have a cafeteria, try a reward or discount program for the healthy items. Here are some examples on how to offer this. If employees choose the salad bar, sandwich station, fresh fruit or soup, they get a certain discount on their total bill. If the system is set up where the cost of a healthier choice is lower than the unhealthy options, employees are more likely to grab some greens for lunch.
If that sounds like something you'd like to dip your toes in, but either don't have a cafeteria or it seems like a big jump, you can start with your vending machines. Talk to your vending machine provider and ask for healthier options, label them and give a discount on these items. You can also consider completely revamping your vending machine offerings for a healthy, fresh version. You might see items in these machines like apples, hard boiled eggs, veggie and hummus dip, bake potato chips, and organically made items. Don't forget to consider your vending beverages too! Skip the soda and offer naturally flavored water, teas, Kombucha, almond milk and coconut water.
Food will ALWAYS be a hot topic and it's a good place to consider some welcome changes at your workplace. Give your employees some natural energy through healthy food and drinks so they can keep their eyes open during the 2 o'clock slump. They will thank you for it, and maybe you'll see some positive changes in productivity, and how your employees feel about the way are you are supporting them.