Active Aging Week is always an exciting time for the NIFS Active Aging team. Our team members work hard to create opportunities for the residents ranging from sports, recreation, and trivia to meditation, education, and beyond with the goal of celebrating a positive view of aging. NIFS staff members across the country went above and beyond this year to encourage residents to step outside of their comfort zones and celebrate actively aging all week.
This spirit was most certainly demonstrated by the water volleyball tournament that took place between our senior living sites in Chicago, IL, and Lincolnwood, IL this year. I had the opportunity to speak with both Ruth, the NIFS Fitness Manager at Lincolnwood, and Leah, the NIFS Fitness Manager at Chicago, to see how the day went. Check it out!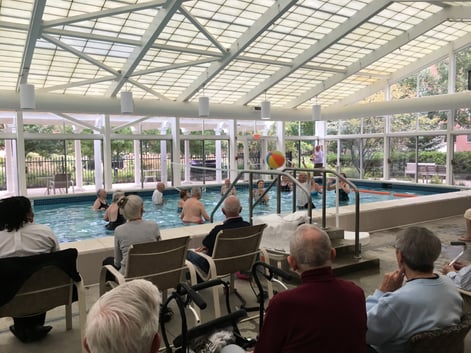 Q: What inspired the idea of a water volleyball tournament between Lincolnwood and Chicago?
Ruth: I really wanted to put together more activities between our Illinois sites, and water volleyball seemed like a great way to get our residents together and get to know the other community. Leah did a great job of getting her residents to practice and actually come with their A game this year. I really would like to host chair volleyball tournaments to include Wyndemere as well since they don't have a pool.
Leah: Last year, Lincolnwood came to the Chicago site to play water volleyball. We assembled a team for the event without ever practicing. The Lincolnwood players told the Chicago players that they "skunked us," and that didn't sit so well with our competitive residents. A rematch with Lincolnwood was one of the first requests I received when I started in Chicago last March. From there it was just a matter of timing, and we thought tying it into Active Aging Week was a great idea!
Q: So, let's get the obvious question out of the way…who won?
Leah: I'm proud to say we brought the Poinsettia Trophy home this year. We had several residents who had played last year say they would only play this year if we practiced first. I put four practice times on the schedule, and the players enjoyed it so much they requested two additional practices. They were taking no chances this year and their hard work showed…we "skunked" them!
Ruth: Yeah, yeah they beat us...this year! We have an ongoing water volleyball group here at Lincolnwood that meets on Saturday mornings. They have a team resident leader, and honestly they were overly confident this year and really didn't play to their full potential. Nonetheless, we loved having the Chicago team here and enjoyed the time together since we do a lunch afterwards as well.
Q: What do you think the residents enjoyed the most about the tournament?
Leah: Play is one of the best things you can do for your mind, body, and soul; and unfortunately, it seems like we lose sight of that as we age. This tournament gave our residents the opportunity to reconnect with their younger selves, become part of a supportive team, play, and have fun! Our team is a competitive bunch. They were jumping, leaping, and diving for the ball. One resident told me after the tournament that being on this team was the best workout and the most fun she had had in years.
Ruth: Definitely promoting water volleyball is a way to reach out to our residents as another form of exercise beyond the standard fitness classes. They love the competition aspect and really enjoy developing as players, regardless of their age! Many of them played volleyball throughout their life.
Q: Were there any surprises? Anything that stands out from the day?
Leah: My residents were shocked and not too happy to find the beach ball at Lincolnwood was quite a lot bigger and heavier than the ball we have at Chicago. It really threw the team off during the first game (which is the only game we lost at the tournament). It was fun to see them adjust their style of playing.
Ruth: We actually were equally surprised last year when we had to play with a smaller-version volleyball; perhaps we need to come up with an in-between ball. I think the biggest surprise for us was how prepared the Chicago players were, their setups were definitely practiced.
Leah: There were many highlights of the day, but the thing that stood out to me most was the game-winning point of the final game. There was so much tension in the air as our resident made the final serve. When the ball dropped to the water and scored the final point, the Chicago residents just erupted with a cheer. On our way home the team asked if we could continue to play once a week and open it up to all senior living residents. It is now on our schedule every Wednesday at 1 pm!
Ruth: The good news is that our players surprised me by not being upset over the loss; they embraced the camaraderie among both communities. They also appreciated the positive comments regarding the pool size and the luncheon, but they are excited about next year and heading back to playing at The Clare.
Q: Do you have any advice for fitness staff who want to host a similar tournament in their community?
Leah: I definitely recommend having a few practices before playing an actual game and communicating with the other facility about towels and water. The site in Chicago provides towels at the pool, but Lincolnwood does not, so I was thankful Ruth let me know that in advance so we were prepared.
I'd be sure to clarify the rules with the players before the game.
Ruth was kind enough to coordinate a buffet lunch after the tournament so all of the players got to enjoy a lunch together. Timing wise, we allowed 30 minutes between arriving at Lincolnwood and starting the game, and 30 minutes between the last game and lunch. We could have done 20 minutes between each instead because our residents transitioned more quickly than expected. In addition to the Poinsettia Trophy, Ruth also prepared a laminated certificate for the winning team, which we framed and will hang in our pool area. The residents are extremely proud of the certificate and have brought their grandkids in to show them.
Ruth: Ditto on the above. Have those rules laid out in advance so all the players understand before the tournament and set up practices months to weeks before the actual game! It really is just a fun way to bring communities together and showcase NIFS's work in providing programs that continue to encourage a "healthy lifestyle" for both the mind and body to equal active aging!
Thanks for sharing, Ruth and Leah!
To learn more about partnering with NIFS to manage your senior living community, click the link below.