Raise your hand if your senior living community does not have a formal, functioning, and strategically built new resident onboarding/orientation/integration process. It's common—really common—to see communities either have no process or expectations on how to integrate new residents, or to have expectations that are so loose and disorganized that the "process" is ineffective.
There is so much to take care of when someone moves in, not to mention all the other responsibilities of community jobs that don't stop just because a three new residents arrived last week. Still, I think we're missing a huge opportunity to do right by those new residents in the community's wellness program when we only look at orienting them to the community as simply another item on the "to-do" list. You might be wondering how I'm making the leap on the orientation affecting wellness. Bear with me and read below about three ways you can do better with new residents to ultimately build a better wellness program.
Of course, in order for this to make sense, you'll need to appreciate that I'm coming from the position that your wellness program is more robust than simply filling the calendar with "one and done" activities. For your wellness program to be multidimensional and person-centered, it has to be based on fulfilling the purpose and passions of the residents you serve. For tips on how you can better evaluate the quality of your programs, read this blog.
#1: Shift Away from Telling Them What They Need to Know.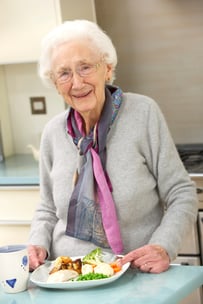 In most communities where I've provided wellness consulting, if there is any formal new resident integration process in place, it involves staff scheduling time with the resident to tell him about a particular area of the community. There's usually collateral involved, and the time the staff member spends with the resident is usually a download of programs, services, and how-to's related to that department.
I'm all for making sure new folks have the information they need in your community. They should absolutely know how to place a work order for service, how to reserve their seat on the bus trip to the symphony, and how to access their financial accounts with the community. But spending your "I'd like to get to know you better time" with that individual overloading them with do's and don'ts, calendars, contact information, and anything else on your 20-point checklist will be daunting and downright exhausting for even those who are wildly enthusiastic about their move into your community. Imagine how it feels for those who are ambivalent about their transition.
This is not the end of your onboarding process.
#2: Start Focusing on Individual Purpose and Passion.
Once you've followed through on providing the basic how-to-get-what-you-need information for new residents, you can turn your attention to understanding individual resident passions. It's understanding what makes an individual tick that sheds light on his potential. And that is the place you can help him connect in your community.
Several months ago, I wrote about the position of activities director and how it's turned into something of an order-taker role. Tasking your activities director with onboarding new residents in a different way can be a great first step toward breaking down that order-taker paradigm. It could also be appropriate to consider a Community Navigator, as described in this blog from Glynn Devins, for this kind of role. Regardless of whose job it becomes, someone on your team initiates the "get to know you" visit with a new resident. But instead of using that time to download from a checklist, the time is spent asking open-ended questions that drive conversation and allow the staff member to honestly learn about what motivates and inspires the new resident.
I would advocate for some set/standard questions, but also allow space for the conversation to meander along the individual's personal history to afford glimpses of who that resident is and what they're truly passionate about. (In truth, your team members may need some training to learn how to do this style of conversation and investigation.)
Remember, too, that by the time a resident is ready to move into your community, they've already gone through the prospecting and sales process with your counselors. There's a good chance that the resident answered several questions about personal interests as part of that wooing process, and using that information in advance of the 1:1 session will help maximize everyone's time during that face-to-face meeting.
#3: Use What You Learn.
The information you gather from your sit-down with the resident should be used to start building a resident profile to help you connect that individual to opportunities in the community to learn and grow. You should also use the information you're gathering from all new residents to build a database that informs your wellness programming strategy, because now (finally!) you have a basis from which to build programs and services that speak to the actual articulated needs of your residents. You're no longer slapping spaghetti against the wall to see what sticks; instead, you're building what they've asked for, and you're feeding the resident's purpose. You're helping them live exceptionally well.