Who finds themselves able to eat peanut butter by the spoonfuls and straight from the jar? Have you ever thought about taking a peek at the nutrition label or does that scare you out of your wits, so you just continue to enjoy your delicious creamy peanut butter? You'd be surprised at what you might see, whether you notice the crazy amount of fat per little bitty serving size or the calories. Go ahead, find your nearest jar of delicious creamy peanut butter, but hold that spoon and checkout those facts. See them? Are you shocked? Are you still conscious, breathing, and maybe in slight panic thinking you have to give up your love for peanut butter? Just wait, I want to share my all time favorite substitution with you!
While there are several substitutions available and eating regular peanut butter does have healthy fat and is okay to eat in moderation, I find myself enjoying a newer product called PB2. It's a powdered peanut butter, with 85% less fat calories than traditional peanut butter. Interested in the secret? PB2 states that their superior quality peanuts are first slow roasted then pressed to remove 85% of the fat and oil. It's still deliciously rich in taste and wonderfully healthy. Let's take a minute and compare the PB2 with the traditional peanut butter using the serving size of 2 tablespoons:
Traditional Peanut Butter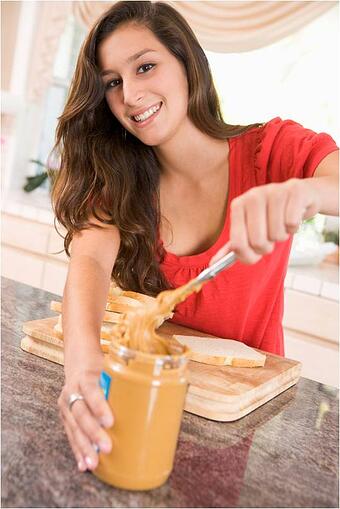 Calories 190
Calories from fat 144
Total Fat 16g
Sodium 140mg
Total Carb. 8g
Sugars 3g
Protein 7g
Bell Plantation PB2
Calories 45
Calories from fat 13
Total Fat 1.5g
Sodium 94mg
Total Carb. 5g
Sugars 1g
Protein 5g
After seeing the comparison, you can see which is the better option of the two. PB2 is all-natural with no additives. Coming from a peanut butter lover myself, I found the switch to be easy and I actually enjoy it more without the feeling of guilt afterwards. Yes, there is one more step to turning the powdered peanut butter into creamy peanut butter and that is mixing 2 Tbsp of the powder with 1 Tbsp of water then simply put on your veggies or sandwich. You can always add more water to reach your preference. Curious where to find such a thing? A single jar of PB2 can be found at GNC, select Target stores, Wal-Mart, or Kroger. To order in bulk, you can order it from Amazon or the Bell Plantation website. If this doesn't suit your fancy, feel free to learn about other substitution options through the NIFS by contacting Angie Scheetz for a nutrition consult.