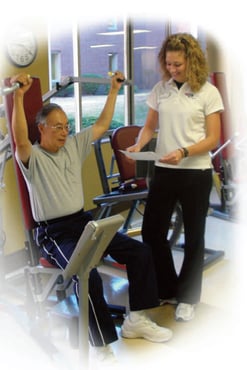 Of course, it's horribly self-serving for us to say that staffing your onsite fitness center and wellness initiatives isn't a DIY (do it yourself) project. We're not above shameless self-promotion, but the truth is, the consequences of making fitness center management a DIY initiative can be costly. Read on to learn NIFS top three reasons to outsource fitness center management of your retirement community or worksite fitness center.
Reason #1: Your actual dollar cost is only part of the cost/benefit picture
If you're reading this thinking, "Outsourcing is expensive – way more expensive than hiring my own personnel", you're right. Of course, costs come in two types: direct and indirect. So don't stunt your thinking about this by looking only at the invoice from the outsourcing partner against your compensation profile for your own employee.
Reason #2: Outsourcing fitness center management provides expertise you can't build on your own
We would never lean toward such exaggerations as to say that health promotion, fitness, wellness (insert your favorite name for it here) is akin to rocket science. It's not hard, like organic chemistry hard. But it's challenging in that call center, customer service kind of way. Let's face it, anyone one who works in customer service knows that the hardest, and most rewarding, part of their job is working with the customer. NIFS staff are in that same customer service spot.
To that end, there is a benefit to having a pool of like-minded peers who are doing the same type of work, sharing in successes, problem-solving through challenges, and brainstorming new ideas together. When you hire an outsourcing organization to provide your staffing, they have that built in peer support. When you hire your own wellness professional – they're essentially on their own to build a peer network of support.
In NIFS case, the support network extends well beyond peer support. Our staff-built intranet provides program creation ideas, internal form links, peer-to-peer continuing education and more. All of these staff resources are a benefit to our clients. When they hire NIFS, they not only get their own manager, they get indirect access to our other 70+ like-minded professional peers.

Reason #3: Outsourced partners are experts in fitness so that you don't have to be.
Risk management related to both the physical spaces and the programming connected to those spaces is an important consideration for our clients. They don't lose sleep over their liability exposure in our programs though. Maybe that's because we've been managing corporate and CCRC fitness centers and wellness programs for more than 20 years. Maybe it's because all of our staff -- administrators, managers, and specialists – are all fitness and wellness experts. We know the industry standards for waiver language, pre-activity screening, industry-appropriate certifications, subcontractor liability management, etc. Speaking of which, when was the last time you checked the status of the liability insurance for your contracted group fitness instructors?
For more on assessing liability in a corporate fitness program, download our white paper here.
To read about managing liability in a retirement community fitness center, download this white paper.
If you're the "I'll fix my own brakes" or, "I'll build my own home addition" type, then you're more adventurous then I and perhaps you should hire your own wellness professional. If you're looking for an outsourcing solution that is more trustworthy and reliable than your mechanic, and less expensive than your home addition, consider checking NIFS out.
Read our case studies (Sagewood | Marquette | NextGear) to see how we've provided scalable and cutting edge solutions for our clients.