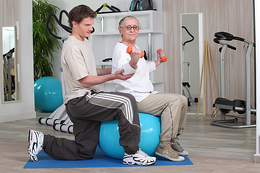 Many Continuing Care Retirement Communities (CCRCs) offer a variety of group fitness classes to their residents. The community personnel who hire the group fitness instructors (GFIs) may benefit from a few pointers on hiring standards beyond someone's personality alone. Don't get me wrong, the right personality and ability to build relationships with residents is crucial for making a class successful. However, a narrow focus on personality alone may not provide your residents with the maximum benefits of participating in the activity and could create a dangerous environment.
Certifications and Insurance
To protect participants in group exercise classes (whether in commercial gym, church, school, or CCRC settings), fitness industry standards require that GFIs maintain current instruction certifications and CPR/AED certifications. Contracted GFIs should also carry proof of personal liability insurance. Well-qualified GFIs are aware of these standards and likely would not be in the practice of instructing without maintaining those certifications. For community personnel hiring these individuals, that may be your first sign. If someone applies for the position and cannot provide proof of current certifications and liability insurance, they likely aren't the best fit for meeting the fitness program standards for your community.
Furthermore, communities should make sure that they are maintaining current copies of certifications from their existing GFI staff. If you find that existing instructors do not have current certifications, it's likely time to establish a timeline within which your GFIs can obtain a certification to continue with their instruction.
Experience in Senior Fitness
It's also important to make sure that GFIs have experience teaching an older-adult population. When looking for an instructor, you might contact local senior centers, churches, or YMCAs and share information about your opening and provide the requirements and qualifications you are looking for in a GFI. This may provide you with a better candidate pool than having to sift through GFIs who teach boot camp, kettlebell, or kickboxing-type classes.
Personality
Looking at certifications and experience instructing older adults is the best starting point when looking for a GFI. However, as previously mentioned, the personality of the GFI is also critical for the overall enjoyment of the participants. When replacing an instructor or recruiting an instructor for a new class format, you might consider surveying your residents on their desired qualities in an instructor and in a class.
For example, if you are searching for a yoga instructor, residents may have feedback on enjoying the relaxation benefits of the class. This could allow you to question candidates on elements of relaxation they build into their class. While you may not have the expertise to recognize the specific details on the relaxation elements they are discussing, you should be able to gather feedback on their style of instruction: Is it soothing, focusing on breathing and guided imagery and providing a sense of calming for participants? Or does the instructor focus on deep stretching or strengthening throughout the class?
Establishing standards for GFIs in your group fitness program can benefit more than just your residents. Sharing these standards with prospective residents can be a great marketing tool to promote the dedication and focus your community places on its wellness programming.