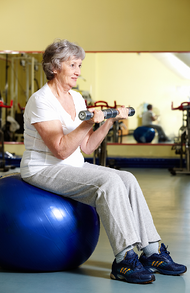 You likely receive feedback from residents on how much they enjoy certain group fitness classes or instructors, or perhaps the NuStep in the fitness center. You hear it in passing comments like, "Don't get rid of the yoga instructor," or "We need another NuStep." Those comments provide great feedback as part of your overall assessment of the fitness program. But beyond those individual preferences, how do you measure the true value of your community fitness program and what it lends to your resident population as well as to your community's marketing potential?
Cater to the All Potential Participants
Your lifelong exercisers will likely find opportunities that they enjoy no matter how much or how little your community is able to offer. Positive feedback from these select participants doesn't mean that your program is making the grade for your resident population as a whole. There is likely an untapped audience in your community and creative programming plus personal touches can help draw those less active residents into the fitness center and/or classes. This is definitely an area of strength for us. Our clients quickly see the benefits of a partnership with NIFS when we can show them exactly who is participating in our programming.
Measuring the Effectiveness of Your Fitness Program
So that begs the question: Do you know what percentage of your residents participate in group fitness classes or uses the fitness center from month to month? Which classes are the most popular or which pieces of equipment are most frequently used? Have your residents shared why this is the case? If you can't answer all or some of these questions, that likely means your community fitness offerings could benefit from a more solid foundation to evaluate participation and resident interests.
Consider these simple steps your community can take to begin measuring the effectiveness of your program:
Utilization of your fitness center and participation in group fitness classes should be tracked daily and reported on a regular basis. Communities can determine the information they would like to evaluate and implement tracking methods for their fitness staff and residents. We find that residents take to simple sign-in sheets fairly easily and fitness staff and group fitness instructors can provide friendly reminders to residents to sign in. Providing a structured memberhsip process is a good starting point to clearly track who is and is not participating.
Conduct annual surveys to gather direct resident feedback to rate the overall quality of existing classes, instructors, programs, and services. Learn from the resident population as a whole (don't just send the survey to active participants) about additional programs that they would like to see or ask them to share why they aren't currently participating. After processing the results, develop an action plan to follow up with individual residents or on general program improvements to continually evolve the program and hopefully engage more participants.
Your fit and active crowd will likely be the most vocal about the types of equipment they would like to see or group classes they would like to try. However, it is important to regularly evaluate the full scope of programing including balance in class offerings, available equipment, and scheduled programs focused on fitness. Residents of all ability levels should have exercise options in the fitness center as well as group exercise classes for their specific needs. It's fine for instructors to provide modifications for residents of all ability levels in classes, but it's important for lower-functioning participants to feel like they have options all their own and that they aren't simply being condescended to in a group of more able-bodied residents.
---
Taking these simple steps can help improve resident satisfaction in your community fitness offerings. It will also provide more concrete talking points for your marketing department when speaking with prospective residents. Important program metrics coupled with powerful and personal success stories speak volumes to prospects who are trying to gain an understanding of what their lives can be like if they move into your community.