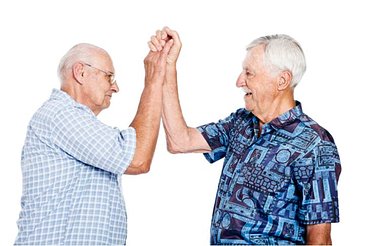 Many communities have regularly scheduled recreational activities on the monthly calendar such as croquet, bocce ball, or Wii that seem like fairly logical programs to spin into Olympics-themed events in senior living communities. Still, it's not enough to simply group these regularly occurring events together and call them your Community Olympics. How do you set up the initiative so that it has broad appeal and allows those residents who participate in the events regularly to feel inspired and challenged alongside their novice neighbors? This two-part blog will provide creative tips to kick your Olympics up a notch with your resident favorites as well as provide fresh new ideas for events.
Part I: Kick it up a notch
Many active aging residents, who participate in weekly recreational offerings such as shuffleboard, putting contests, are quite good. Wait, I take that back –they are really excellent! After all they are playing on a regular basis (perhaps their entire lives) and enjoying the friendly competition amongst their neighbors. As the media starts to promote the next Summer or Winter Olympics and you begin brainstorming ideas for another competition, consider how to create something that will be a truly memorable experience for your residents when they are already playing and honing their skills on a regular basis.
Get more of the community involved:
While some residents aren't interested competing, that element of competition can breathe life into your Olympics and get more residents involved by tapping into volunteers as well as creating spectator opportunities. Create opportunities for your non-competitive residents to engage as volunteers to be scorekeepers, line judges, and coordinators for the individual events. Furthermore as you designate various venues for your events, make sure you include space for spectators and consider offering light refreshments. Market the opportunity for residentsin your senior living community to come and watch and cheer on their neighbors participating in the events. You could even host a workshop where residents can make banners or signs to bring with them and cheer on the Olympians. This can inspire not only your competing Olympian to feel the support of their neighbors, but it might also inspire a resident who is watching the event to give it a try themselves the next time around.
Make it a formal affair:
I'm not talking black ties and ball gowns, but do consider hosting a more formal approach to an Olympics by including an opening and closing ceremony as well as medals ceremonies for the different events you offer. Promote these ceremonies to the entire community and not just the Olympians. If residents are already use to regular tournaments for the recreational programs at the community, these ceremonies can help set your Olympics apart from the offering they partake in from month to month. If you are hosting a variety of different events in your Olympics, have a parade at your Opening Ceremonies to present your Olympians in each event. If you are able to tap into resident volunteers and spectators, recognize their contributions with spirit awards at your Closing Ceremonies.
Residents Unite!
Your residents are already competing amongst themselves on a regular basis. Why not unite your residents into a team and invite neighboring retirement communities to be your opposition for the Olympics. Plan the friendly competition well in advance so all participating communities have a chance to practice and hone their skills at the events that will be offered. While corn hole, for example, may be a big hit with your residents, it may be a new activity to residents at another community and they'll need some time to reach Olympian status. This can motivate your residents to come together as a team and provide a fresh spin on an activity they already know and love.
Up next in part II of this blog, I'll outline the variety of events you can consider for your Olympic Games.
Click below and subscribe to our best practice series and see how our active aging staff create great programming to engage residents!