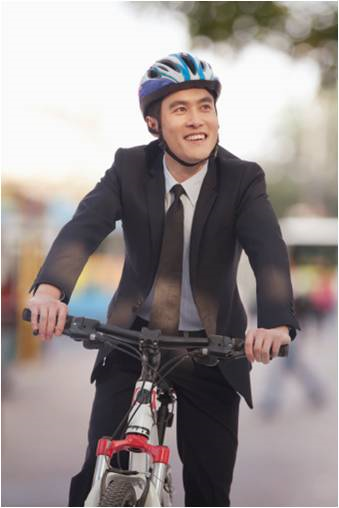 It's MAY, birds are chirping the sun is out and oh yea watch for blinky lights and reflective leg bands, bike season has started! While some dread sharing the road with the two wheeled, foot powering transportation others love this chance to take advantage of the trails and bike lanes in your city. Well the truth is you SHOULD! Step outside of your normal comfort zone and bike to the store or run other errands while getting some exercise in!
Getting back on your bike can be a great way to involve the family, get involved with a new community and a little extra physical activity into your day! Great benefits of biking or commuting by bike include:
low impact exercise
creates a low environmental impact
it's the most energy efficient type of transportation
reduces stress and travel stressors
saves money and so much more
Conduct an ABC Quick Check before each ride:
Air: Check the air in your tires. They should be inflated to the maximum rated PSI, you can find this number on the side of your tires. They should be inflated to the firmness of a basketball if you don't have a pressure gauge.
Brakes:

Brakes should be in working order if they stop the back when pushed forward or backwards. Brakes should be in working order if they stop wheels when pulled.

Chain:

Chain should move freely, lightly oiled and rust-free.
May 12-16 is Bike to work week this supports all levels of bikers to take advantage of active transportation. Here is a great website to get tips and tricks on biking to work or everyday biking. Check into other employee benefits at your work such as a bike commuter reimbursement.
How is your company promoting worksite wellness for employees? Our staff offer great programs to encourage employees to get healthy. Opt in to our Best Practice Series to receive 11 of our Best Practices implemented by our staff.