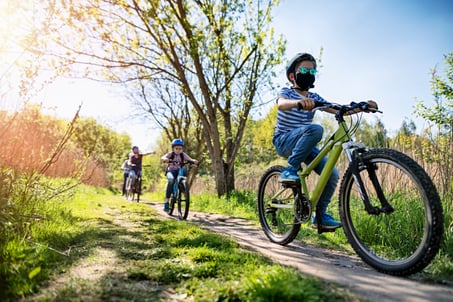 The winter months have come to a close and we have officially made it to April. It is the time of year when Spring has finally returned. The days are getting longer and warmer as we finally start getting back to a more normal environment. It's time to take part in the many joys that Spring brings. During the winter months, we spend so much time indoors that by the time Spring rolls around our bodies are in desperate need of some Vitamin D. Make time to get outside each day to soak up that sun and warmth you have missed!
Check out these ideas and make the time to step outside:
Go for a walk or run: For some, getting your steps in is hard during the winter months if you don't have access to a treadmill or place to walk safely. Now that it is Spring, the outside can be your gym! Take your workout outdoors and find walking or running trails. You can also walk around your neighborhood and enjoy the seasonal changes.
Garden: Try something new and work on planting a garden or try your green thumb at house plants. It doesn't have to be anything too big. Start with a couple of vegetables or some different flowers. This gives you a great excuse to get outside and sneak some exercise in as well. If you are needing some inspiration of where to start with a garden, check out this link!
Do your work outside: If you are working from home it can be very easy to get stuck in the habit of sitting at the same spot day in and out. If you have the ability and flexibility to, take your work or computer outside to the back patio. This change of scenery is a great way to get a breath of fresh air and soak up vitamin D.
Grill out on the patio: Try planning to grill out a couple times a week or even take your lunch break outside. If you have kids at home, plan a picnic in the backyard for a fun activity. Spending some time outdoors at the end of the day is a great way to decompress after a long day.
Encourage the family to get outside: Schedule a household recess. Take a break from technology and spend time with outdoor activities during the evening. A family walk or bike ride is a great way to burn some energy and build lifelong habits.
What do you most enjoy about spending Spring outdoors?