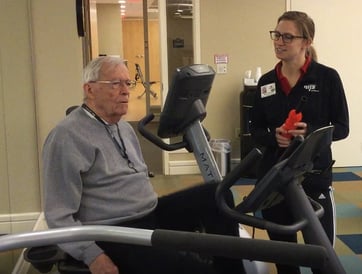 Fitness management is the cornerstone of our business. Recently we have seen an uptick in clients requesting our support in developing broader wellness programming for their residents through the continuums of care. Sometimes the need arises due to challenges with community personnel who don't have the tools and resources to cultivate the desired lifestyle for residents. Sometimes it's because they don't have a point person to pull everyone together out of their silos across the continuums. Sometimes it's both! Sound familiar?
How Well Is Your Community Collaborating on Purposeful Programs?
Ask yourself a few questions about how well your community is collaborating and building programs with purpose and intention:
Do activities staff collaborate regularly on program and service options across departments and disciplines such as dining, fitness, health services, the chaplain, and the social worker?
Do activities staff across all continuums of care collaborate regularly on programs and services and work toward common goals together?
Is your calendar full of activities to keep your residents busy (for example, cards, movies, speakers, shopping trips, and so on), or is your calendar crafted with activities that create purpose for residents?
A Visit with a Senior Living Client in New Jersey
I provided a solution to these answers during a recent visit with a senior living client in New Jersey. We have been providing our traditional fitness management services to this client for the past four years. The approach we discussed was shifting our degreed and certified staff into a Wellness Director role, who maintains fitness duties in the fitness center while also facilitating a strong collaborative approach with activities personnel in independent living and health care.
This particular client has come to expect creative and diverse program offerings from our Fitness Manager. Events offered last month for Active Aging Week included Yoga Poses and Doggy Noses (yep, that's yoga with dogs folks), a Blood Drive, and Movies & Smoothies. Past events included their Polar Plunge, Mind Moves, and Healthy Habit Bingo. As the client recognizes the experiences we create for residents that promote engagement and movement versus sit-and-listen events, they begin to lean on us to support them more broadly outside the realm of fitness. We are also seeing a strong desire for the standard of programming cultivated within independent living to carry consistently through assisted living and health care environments. But we are aware of the struggle communities have to bring that to fruition.
NIFS Staff Members Make the Difference
Our strength lies in the people we hire—in their ability to build exceptional relationships with the residents who participate in their programs and also with the staff at the community with whom they collaborate regularly. Their background as health and fitness professionals empowers them with program solutions to support whole-person well-being. The tools and resources they have behind them from NIFS create the space for strategic planning with key stakeholders in resident well-being.
We essentially become a champion for your community by fueling ideas, breaking down the silos, and getting everyone working from the same playbook on a new standard of program and service offerings. If you are interested in hearing more about NIFS's support of broader wellness programming within your senior living communities, contact me or read on.