I shared a few months ago about our staff following the KISS principle (that's "keep it super simple" in our world!) on an exercise-based program with one of our clients. (You can find out more about the NIFS150 corporate fitness program here.) I wanted to update you on that program's outcomes and talk about our latest challenge.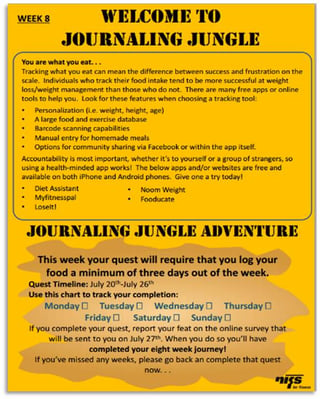 One of the outcomes we saw from that program was that a lot of the participants did not exercise in the corporate fitness center during the initiative, and frankly, that was by design. We were mostly interested in supporting and inspiring employees to achieve 150 minutes of activity each week, so we eliminated the "must be accomplished in the corporate fitness center" barrier by allowing participants to log any activity accomplished anywhere. After all, the primary job of our fitness center managers and health fitness specialists is to get employees moving. If it's activity in the corporate fitness center, even better. But with today's frantic schedules, we'll take any movement, anywhere, anytime.

The Active Summer Adventure Program (ASAP)

In another creative effort designed to help employees make healthy choices across the spectrum of health (not just fitness), our staff created the Active Summer Adventure Program (ASAP) challenge. In this unique corporate wellness program built on a theme of exploration, participants have the following weekly challenges to complete:

Hydration Lagoon: Drink 64 ounces of water each day of the week.
Adventure Park: Try a new outdoor activity.
Meditation Meadow: Practice meditation, breathing exercises, or stretches on four days this week.
Fitness Fountain: Try a new group exercise class, DVD, or at-home workout.
Traveling Trail: Accumulate at least 7,000 to 10,000 steps one day this week.
Feel-Good Farm: Pack a healthy lunch three days during the week.
Progress Paradise: Complete two fitness center screenings (BMI, circumference, blood pressure, body composition, resting heart rate, or body weight) this week.
Journaling Jungle: Keep a food log for three days this week.
As was the case with the NIFS150 program, our goal with the ASAP program was to make it accessible for everyone. It was promoted to all employees, including those who work at home. We ran it over summer months when it can be particularly challenging to attract employees into the corporate fitness center. The online registration and website access for weekly challenges made it simple for all participants to have the information they needed to be successful.

And, in keeping with many of our programs, we offered prize drawings for employees who successfully completed all eight quests. Consistent with the "adventure" theme of the program, most prizes were experience-oriented (such as tickets to theme parks, state park passes, and surfing lessons) rather than stuff-oriented (such as wearable tech, shirts, and gym bags).

ASAP Employee Wellness Results

In a post-program survey we learned that almost 84% of responders believed they adopted a new healthy behavior by participating in ASAP. And that's consistent with their rating of "accountability to try something new" as their favorite program feature. Participants also reported learning something new about health during this program. Although weight loss was not a focus for this program, 43% of survey respondents reported losing weight or inches during the eight-week offering. Almost 60% reported having more energy, and about one-quarter of participants indicated that they were sleeping better. Through the post-program survey, we also gained valuable insights on how we can improve the program if we offer it again next year.

Looking for more creative corporate fitness programming? Check out our

best practice series

by clicking the button below.